EENET – One Year On
Extract from EENET's Newsletter, Enabling Education, Issue No. 2
Meeting of EENET's Steering Group at the International Disability Centre, Ferney-Voltaire, France, June 4-6 1998.
EENET is based at the University of Manchester and has an international management committee, or steering group, which monitors its activities closely and represents a body of expertise on inclusive education. The role of the steering group is to ensure the accountability of the coordinator, to scrutinise EENET's activities, to reflect upon the use of resources, and to provide direction for EENET. Mr B Venkatesh, a disabled person and self-employed consultant, and Ms Palesa Mphohle, a parent of a disabled child and director of a national parents' organisation, are new members of the group. They will help to ensure that EENET has both a consumer and a southern perspective.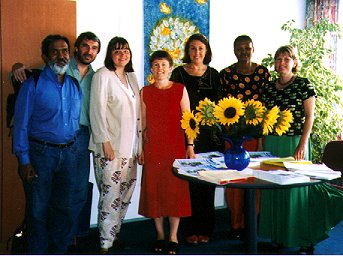 "EENET is a network, not an organisation"
This was the second meeting of the steering group since EENET was established in mid-1997, and was timed to coincide with a meeting of the International Disability and Development Consortium (IDDC). This provided an opportunity for EENET and IDDC members to meet and discuss issues relating to the Agra seminar. Other items on the agenda included: structures; publications policy; information issues; and future strategy.
Challenges facing EENET Reflecting on EENET's first year and discussing possible future strategies, the group used these key questions as a frame of reference for the two days of discussions:
How do we see the task?
How do we reach the 'hard to reach'?
How do we overcome barriers to communication?
How do we avoid Northern domination?
How do we encourage South-South conversations?
How do we involve children/young people?
How do we use technology?
How do we fund development?
Future strategy
Links will be made with other networks to broaden EENET's mission beyond disability to other issues of difference.
EENET aims to regionalise, rather than decentralise, its activities. We don't want to encourage the idea that Manchester is at the centre.
Financial responsibility for regionalisation and translation will remain with the partner organisation concerned, and not with EENET.
The role and voice of children and ex-pupils will be promoted within EENET.
What can EENET do for you?
Send you a regular newsletter;
Put you in touch with others in your country, region, continent;
Supply documents on request;
Provide materials in alternative formats e.g. Braille;
Maintain the web site.
What can you do for EENET?
Send us stories, photos, cartoons;
Write letters about your experience;
Provide information about your work on disk for the web site;
Send lists of names and addresses for our mailing list.