Education as freedom from slavery in Niger
Romana Cacchioli
Slavery is illegal under national and international law, yet around 43,000 individuals live in slavery in Niger, the poorest country in the world. Denied their basic human rights, individuals inherit their slave status at birth. They are under the total control of their 'masters' for whom they are forced to work. Here Romana explains how an Anti-Slavery International project gives former slaves the chance to go to school for the first time, alongside the children of former masters.
The 'Securing Freedom Through Education' project focuses on the desert Tahoua region, which has high levels of slavery. Anti-Slavery International works with a local NGO, Timidria Association, whose members are mostly former slaves or descendants of slaves. The project provides community schools: their locations are agreed by local communities, who also construct the buildings using local materials. Schools have been built in villages established by families fleeing slavery. These villages have appointed their own chief – a former slave.
Attending school means children increase their chances of achieving a livelihood beyond slavery. Teachers are hired and paid by the government. The national curriculum is supplemented with learning about human rights, equality and non-discrimination. This helps to break down the barriers imposed by tradition and culture, and empower and build confidence among children of the slave caste. Social workers attached to the schools monitor enrolment equity. Half of the pupils in these schools are girls; while nationally only 31% of girls are in primary education.1 To encourage mothers to send their daughters to school, the project provides them with micro-credit to start a small business (like goat rearing) and earn an independent living. The fund is managed by the schools' mothers groups. Each school helps about 30 mothers.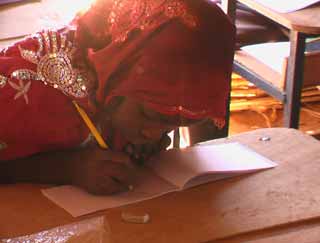 Six-year-old Aicha at school in Dalloussaye village
The communities are nomadic or semi-nomadic, so the schools provide an important focal point. The school social workers run a school pharmacy and give health and HIV/AIDS advice; they raise awareness about the impact of child marriage on girls' education; and give child welfare and development advice to parents. The schools also provide breakfast and lunch, as most families face food shortages. Each school has a concrete-lined well, offering safer water supplies to pupils and the wider community. Five schools have been built so far, teaching 276 children; 73% of pupils pass the end-of-year exams. Three more schools will open in the next three years. Annual reviews involving children, parents and school management committees will ensure that the schools are meeting learners' and communities' needs. An annual meeting of school management committee representatives will enable schools to learn from each other and work together in the future.
"I have been promising people for years that Timidria would help us set up a school but the masters said it would never happen and that our dreams were pie in the sky. I am so happy that our school is now a reality…Now we have our self respect. The children love school, they are so excited about everything they are learning and every day come home with new ideas and thoughts. Now I can see that my children really do have a future." (Illin Cheho, former slave, now village chief of Danlousey)
Romana Cacchioli is Africa Programme Co-ordinator with Anti-Slavery International.
Contact:
Thomas Clarkson House,
The Stableyard,
Broomgrove Road,
London SW9 9TL,
UK
Email: r.cacchioli@antislavery.org
Contact Timidria Association at:
Koira Kano,
BP 430 Niamey,
Niger.
Email: timidria@intnet.ne
Slavery in the context of this story involves men, women and children being forced to work, through mental or physical threat. They are owned or controlled by a 'master', they are dehumanised, bought and sold as property, and have limited freedom of movement. Children are born into the 'slave caste'. Slaves are at the bottom of society's hierarchy; they are not allowed to own land, marry outside of the slave caste or engage in any decision-making processes.
1 UNICEF (2009) State of the World's Children