A school for shepherds in Lesotho
Tara Baanen
Life in the mountains of Lesotho in southern Africa can be tough, but for young shepherd boys it is particularly difficult. Here Tara describes a school for shepherds in Semonkong, a small settlement in the heart of the mountains, which takes place in the evenings. It is the only chance most of the shepherds have to receive an education. The school was started in 2007 by a dedicated teacher, Ntate Julius Matoso Majoro. He was once a shepherd who was denied access to school.
Life as a shepherd
Boys become shepherds as young as six years old. Often they are orphans who have no other way of surviving. They spend each day searching for grazing for their goats, sheep or cows. Their whole lives revolve around the needs of their animals. The shepherds only own what they can carry, including a traditional Lesotho blanket to keep them warm.
Winters in Lesotho are long and very cold, and then the shepherds graze their animals around Semonkong. But during the summer (January to April) they move to higher ground. The local chiefs hold a 'pitso', a community meeting, to decide exactly when they should go. The shepherds leave in a big group. A donkey carries their maize meal, cooking pot and washing bowl. Some boys ride horses, but most walk for several days to get to the higher summer pastures. They have dogs to protect them from cattle thieves. The first frost is the sign to return to lower ground – but the chiefs may decide it is too early and send them back for another month.
What happens at school?
The shepherd school in Semonkong was established next to a Children's Centre which cares for 82 orphans and vulnerable children. Currently 62 shepherds attend the Semonkong school. Lessons in Sesotho, English and Maths are held Monday to Thursday, from 7pm to 10pm, after the shepherds have taken their animals to the kraal (animal pen) for the night. After lessons, students are given a nutritious meal.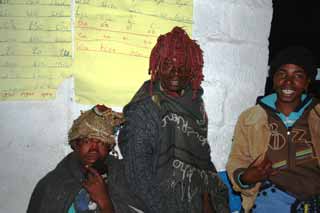 Shepherds attending the school in Semonkong
Students start by learning basic reading, writing and counting skills; most cannot count their animals or money when they join the school. They also learn important life skills such as respect for others and the environment. Shepherds are provided with HIV/AIDS advice and, where possible, free HIV testing as Semonkong has a 1-in-3 infection rate. Many of the shepherds are also talented singers and practise at the school.
The school is only open in winter (May to December). However, during the summer months when the shepherds are away, school staff try to visit them and provide reading materials, clothes and medicines.
There are other shepherd schools in Lesotho – one school in the south of the country has students aged 8 to 62 years!
Impact of the school
Attending school brings the shepherds together, relieves the loneliness of their lifestyle, and gives them opportunities to share ideas and socialise. It has also improved their behaviour. The process of learning has relieved the boredom and sense of hopelessness that had previously resulted in the shepherds fighting and stealing cattle. They have greater confidence and self esteem, are no longer looked down upon by others in Semonkong, and their good behaviour has been commended by the local chief.
"I know how to read and write. I know how to count money and animals. I get advice from my teacher and my class mates: to respect, to be kind, honest and trustworthy."
Makalo Senone, 19 years old, class 2
Tara Baanen has worked at Semonkong's Methodist Children's Centre since December 2007. The work is funded by church-based organisations.
Contact:
P.O.Box 173
Semonkong 120
Lesotho
Email: familybaanen@ilesotho.com