'Beyond Flying': A pupil voice project in England
Isaac Ngugi
'Beyond Flying' is the name of an innovative creative arts project carried out in 2008 with pupils from a secondary school in London, England. In this article Isaac, a drama teacher specialising in pupil voice, explains how the project aimed to change the traditional teacher-pupil relationship, by enabling pupils to have a voice. Pupils learned drama skills, but they also learned to fly with the aid of harnesses and ropes.
We began by working on conflict resolution and group dynamics. We established ground rules and discussed expectations. With the support of artists from Scarabeus Theatre, pupils put on harnesses and learned how to swing, spin and ascend and how to perform choreographed movements while 'flying' in the air.
The pupils worked out themes for their performance, and decided they wanted to challenge stereotypes about young people and to focus on bullying and relationships. Using stage fighting and aerial skills, they devised ways of acting out these issues in a performance. Rehearsing for the aerial choreography was hard work. Ultimately there were two performances – one at the school and one at a local cultural festival.
Supporting genuine pupil voice
Although the rehearsals went well, we realised that the pupils were not telling us what they really thought about the experience. They were giving us only positive answers. We therefore encouraged them to reflect on which parts of the project they found confusing. To do this we asked them to act out the moments in the project when they felt bored and confused. They acted out the process of the project: how we had tried to encourage them and incorporate their ideas. They also showed us how the adults had related to them.
The dramas were funny, humbling and accurate. Pupils also wrote down their feedback and we had a lively discussion between the pupils, teachers and artists.
Who was involved?
25 pupils aged 14 and 16 and their drama teacher
Creative Partnerships London North – provided project funding and management
artists from Scarabeus Theatre – specialising in 'aerial' or flying performances
Isaac from Unclassified Arts
a 'creative agent' – helped with planning, monitoring and evaluation.
We reached an agreement that it is how the adults
communicate, and not what they ask the pupils to
do, that most influences pupils' sense of
engagement in an activity.
After this exercise, the adults not only listened more to what the pupils said, but took their comments on board throughout the rest of the project. As a result, the performance was completely devised by the young people. They also suggested games and activities for use in the project and took more responsibility for the technical aspects of the aerial activities. The young people had developed ownership of the project.
"It was the first time anyone who has taught me has said 'I want you to tell me where I went wrong'."
(Pupil)
"I learned not to take myself too seriously, and how I should adapt my language to ensure the young people are engaged."
(Artist from Scarabeus Theatre)
"We have experienced improvements in how students and staff relate to one another."
(Headteacher)
Young people are more sophisticated than adults sometimes give them credit for. They have a lot to say, and as adults we have to be prepared to hear criticism from young people. Even if we don't agree, we can at least have a debate where everyone's views are valued.
Related activities
The project included far more pupils than just those who performed:
English students aged 12 wrote poetry based on the drama
art students drew pictures of the activities
music students composed and recorded music for the performance
media students aged 16 filmed the project.
The school is also now starting another project looking at how creativity can enhance teaching and learning.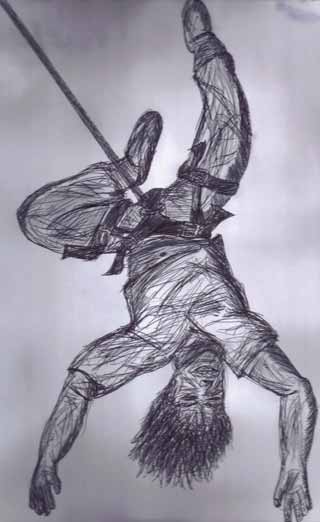 Drawing by pupil showing aerial drama
"How to Engage Marginalised Young People in Sports and the Arts" This was the name of a conference where the pupils ran a practical workshop for adults (teachers, politicians and other professionals working with or for young people) and spoke about and demonstrated what they had done in the 'Beyond Flying' project.
Lessons learned
Don't be afraid to abandon or change your plans (regardless of time spent on them).
Be prepared for what the young people have to say, and if you can, act on it so that they can see that their input has an impact.
Make sure that the roles of both the external artists/facilitators and teachers are clear. Teachers bring skills and knowledge of their pupils to the project; their involvement can ensure activities are continued or developed in the future.
Focus on the creative process, not just on the final output.
This case study is adapted from CPLN's publication "The Challenge Of Engaging Young People Within A 'Comprehensive', Creative Learning Model". Contact Isaac for a copy.
Isaac works as a creative arts specialist. He is a founder partner of Unclassified Arts, an award-winning physical theatre company that provides performance training and arts education worldwide, with a focus on inclusion and participation.
Contact:
Unclassified Arts,
Interchange Studios,
213 Haverstock Hill,
London NW3 4QP,
UK
Email: isaac@unclassifiedarts.com
Website: www.unclassifiedarts.com
A note from the editors on 'Listening to learners'
The concept of 'pupil voice' (also known as 'student', or 'learner' voice) is increasingly seen as central to achieving quality inclusive education. Learners are major stakeholders in education and they have a unique perspective on the learning process. In some countries this idea has not yet been explored at all. In other countries children and young people are often involved in token consultations, and their views rarely taken seriously. Listening to learners can be time-consuming and requires educators to gain new skills. But why should educators listen to, and act upon, the ideas and opinions of children and young people?
Engaging learners in a debate about teaching and learning in a meaningful way is:
an issue of human rights
a key principle of democracy and participation
a strategy for improving education – for both teachers and learners.
Articles 12 and 13 of the United Nations Convention on the Rights of the Child (1989) state that all children and young people have the right to express themselves and receive information, and that their views should be taken seriously. The Convention also states that, "listening to children should not be seen as an end in itself".
All too often, learners are consulted, but little value is placed on their views and the consultation process does not lead to action. Children and young people can become alienated from the concept of 'pupil voice' if their opinions are not taken seriously. Many children and young people become disengaged from education when adults continue to make decisions on their behalf. Yet, involving learners in decision-making can transform their experience of education and so encourage them to participate in their communities.