Supporting marginalised learners in Armenia
Karine Kharatyan and Alina Manukyan
Armenia has a long history of institutionalising disabled people, but various programmes across the country are now working hard to change attitudes and practices. In particular, efforts are being made to enable disabled children to learn with their peers within mainstream schools. This article outlines two activities that are taking place to help improve the education experiences of disabled and other children. Karine, a speech therapist, explains about a theatre club that helps to include disabled children in mainstream schools. Alina, a psychologist, tells us about working with parents to help them support their children's learning.
Using drama to support inclusion
The Child Development Foundation is part of an inclusive education programme aimed at assisting mainstream pre-schools to become inclusive. The Foundation's resource centre in Yerevan, supports pre-school age children identified as having special needs or school-age children who have been left out of the mainstream educational system. Individual and group classes – facilitated by a special needs educator, speech therapist and psychologist – support children's transition to mainstream kindergarten/school, or help children already at kindergarten/school who are facing difficulties. The centre also supports the children's families. The centre runs dance, theatre and drawing clubs attended by children with and without special needs. The clubs play an important role in helping to make the educational process inclusive within the local community.
The leader of the theatre club is a producer who helps match children to roles that suit and interest them. The group work focuses not just on the final performance but also on the process of preparation – the rehearsals teach the children to become more attentive, patient and caring. For example, if one child has limited mobility, the whole group helps him/her to move around. Children gradually gain confidence and independence, which is enhanced by the group leader encouraging the children to improvise and change the script. This allows children not only to be actors but also script-writers and directors. Club members prepare everything for the performance, from decorating the stage to sewing costumes.
On the day of the performance everyone is excited. During the performance no child is viewed as having limited capabilities, they are all real actors. Many audience members may previously have thought they should avoid children with special needs and their families. But after the performance opinions change. For some children the performance may be the first time they have been the centre of attention because of what they can do, rather than what they can't do. They are strong and everyone witnesses this.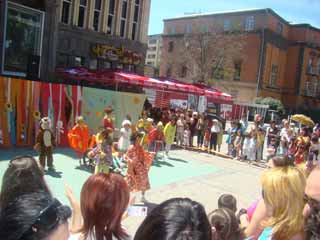 A public performance by the theatre club
The theatre club helps to raise children's self-esteem and belief in their own abilities, and helps them to make friends – this can really change life for them and their families. It challenges and helps to alter the opinions of parents and other adults, which ultimately improves the inclusion of children with special needs in education and the community.
Aram is 10 years old and has Down's syndrome. He did not attend school as his grandmother thought he could not manage in an environment beyond the family. For a while Aram attended only individual classes with a psychologist and special needs educator at the centre. Later, at the age of 9, he became involved in the theatre club. It was the first place where he studied how to co-operate, take responsibility, and love and be loved by other people. His grandmother's fears of taking Aram into the wider society were overcome. By September 2008 Aram was attending a mainstream school.
Empowering parents to support learning at home
In Armenia, children labelled as having 'special needs' have been considered 'incapable'. Even the term 'parents of children with special needs' has been used as a negative label. Parents have been viewed as being responsible only for their children's physical well-being, while the decisions about what and how to teach their children should be made by special needs educators, psychologists, etc.
Such attitudes are now changing, and the important role that parents play in a child's intellectual development is at last being recognised, thus offering parents opportunities to become active participants in their child's development. Children who are helped to learn and practise key skills at home may also find it easier when moving to mainstream school.
While education at home exists in Armenia, improvements are still needed. In our context, learning at home currently ranges from parents teaching their children basic concepts such as colours and sizes, to performing tasks with the child that have been suggested by specialists.
"For quite a long time I kept thinking that only specialists should work towards my child's intellectual development. I thought all I could do was to conscientiously take my child to special classes. It was only when I started completing the tasks assigned by the specialists together with my child, I realized that I also could contribute towards overcoming problems my son faced. This helped me to better understand my son, become his friend and teacher, and free myself of the oppressive feeling of being incapable as a parent"
(Mother of a 4-year-old boy)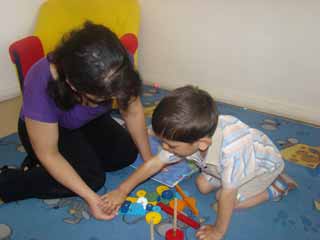 Parent supporting her child's learning at home
Our experiences as specialists based in the centre provide some lessons regarding what works well to help involve parents in their child's learning at home:
It is crucial for parents to accept their child as he/she is – whether or not he/she has an impairment or other 'special need' – and acknowledge that their child has the right to be different. We encourage parents to support their child's development process through showing love and dedication, and not relying totally on specialists to do all of the necessary activities with the child.
Parents are often not aware of, or they underestimate the extent of, their child's capabilities. Choosing the right level of activities for a child is important. We therefore empower parents with the confidence to choose appropriate activities and games that will help their children to succeed in learning a particular skill. Parents are shown how to support learning in small steps and at a pace that suits the child.
All children learn best when they are interested in a task. Therefore, rather than only following preset activities, we help parents to find out what their individual children are interested in. Encouraging parents to take advantage of all learning opportunities in the home is essential. For instance, if a parent knows what their child's favourite game is, we help them to think creatively about how they could use this game to achieve various learning opportunities.
Finally, we support parents to achieve a balance between working hard with their child to achieve learning objectives and still giving the child plenty of love and affection.
Contact the Child Development Foundation at:
0065, 1 R. Melikyan Street
Malatia-Sebastia
Yerevan
Republic of Armenia
Email: cdf2009@mail.ru or kristina_baghdasaryan@wvi.org
This article is an edited version of the authors' original work, which was translated from Armenian into English by Yulia Shahnazarova.