Inclusive vocational education, Morogoro, Tanzania
Emma Machenje
Bigwa Folk Development College (FDC) offers vocational education to students from rural areas, many of whom have not completed primary or secondary school. Daily travel is impossible for many students, so they board at the college during term time. The college promotes an inclusive approach to education – not just through its commitment to enrolling disabled students, but also through the welcoming, student-focused environment created for all learners. Bigwa's principal, Emma Machenje, explains how this inclusive approach has developed.
Our approach to learning
At Bigwa FDC we offer students a chance to learn a skill (tailoring, carpentry, masonry, domestic electrical installations, gardening and cooking). At the same time they can continue with academic learning (languages, business studies, etc). We use our small, but well-organised library to encourage all students to read more widely, about any subjects that interest them. Every student has library sessions in their timetable. We also found that staging small discussion groups is very good for all students. On a regular basis students gather in groups to discuss what they have read in the library or learned in class, and the running of the college in general.
"When a teacher is teaching, you can forget issues, but if you also read by yourself you can remember better." (Dixon, student)
When you introduce a new idea like this, it grows slowly. Students need to get used to it. We helped them develop a structure for the discussion groups, e.g., someone who is the chairperson, etc. In class, students help each other during the discussion groups. We encourage them to keep discussing outside of class, and to go to the teachers if they have any questions. They can also come to my office at any time if they want to talk or ask questions.
"A teacher has to love his students" (Ally, student with learning disability)
We believe that every person is a resource who can help in the learning process. Every student can bring their ideas to the student council and to the college administration. They can advise us on improving the education we provide. We don't like having a big gap between teachers and students. We try to close the gap. For example, we have a system of student diaries. Every day students write what has happened in the diary. At the end of the diary there is a space where they can also write their personal reflections. Students and teachers read the diary together, and then staff can make any changes that are needed, based on what the students have experienced.
"A teacher has to be tolerant because some are slow and some are fast learners. He should be patient with anyone who writes slowly." (Mariam, student with visual impairment)
Introducing disabled students
The Ministry of Community Development, Gender and Children first introduced college staff to inclusive education ideas in 2005. We then attended seminars on inclusive education/schools, Sign Language and Braille, run by the Tanzanian Association for Mentally Handicapped (TAMH). We were taught how to work and live with disabled students and how to incorporate them in the learning process.
We decided to embrace inclusive education because we thought it was a good idea; we believe the community and education should be for everyone.
After training, we started to raise awareness within the college community. We encouraged parents to educate their disabled children, and they started to bring them to Bigwa. We still work closely with TAMH in our efforts to involve parents. TAMH is a membership organisation for parents of children with learning disabilities. A TAMH member from Bigwa's community represents parents and follows up with the college administration every month, so that parents know what is going on. We also raised awareness among students by stressing that they should all care for one another as they would want to be cared for themselves.
The role of students
When the first disabled students enrolled, we held a staff meeting to discuss how we should receive them. We decided on a system where fellow students help them – not over-protect them, but just assist them within and outside class. We asked non-disabled students if they wanted to volunteer to support a disabled student, and many of them did. They started by showing the disabled students around, helping them to wash their clothes and do other daily tasks.
To start with it was difficult, but we all persisted. Some of the disabled students were kept hidden in the community before they came here; with no social contact even simple daily tasks were a challenge for them. Some, like Omari, could not even talk. When they first enrolled they often preferred to be alone. Staff and students encouraged them to mix in daily activities, and now the disabled students have gained confidence and social skills. We currently have 15 disabled students enrolled, with a range of physical, visual and intellectual impairments, out of a total of about 75 students.
"We all need to be co-operative and ask classmates. We don't just have to wait for the teacher when we have a question; friends can explain things to us as well." (Mwajuma, student)
Participation and progress
We don't just leave the disabled students in class once they have enrolled. We do lots of follow up questioning to ensure they are participating. For example, I often meet with them and ask them if they have any problems. Then I sit with the teachers and we all discuss how we can solve any issues that arise. As principal I believe I shouldn't be restricted by my working hours. My home is always open. In this job I have to be patient and listen to every student. If they get frustrated because I don't listen, then we will lose them.
Students have both continuous assessment and end of module tests, which can be written or oral, depending on their communication abilities. We keep records on students' progress. For example, our students who have learning disabilities are regularly assessed for progress in basic reading, writing and numeracy skills.
How do we keep improving?
To develop inclusive education in this college we have used ideas from other places and from discussions with other principals. Anatoglou FDC taught us about the need to love and care for students so that they have confidence and will stay in the college. We have used the suggestions of innovative teachers, and I have done a lot of reading into education research. Visitors to the college can also advise us and discuss issues. And of course, most importantly, the students give us many suggestions for improvements, through the student diaries and the student council.
In April 2008, a participatory photography project was run at the college, with support from TAMH and its Norwegian donor NFU.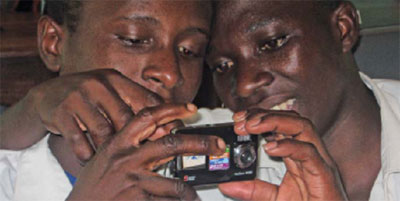 Ally and his friend Aron practise using a camera
The project helped disabled and non-disabled students to express their views on what makes education inclusive, and what responsibilities the students, parents and teachers have in developing inclusive education.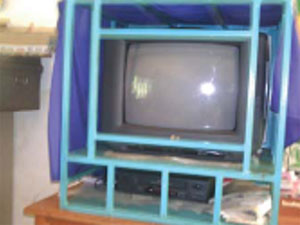 This photograph was taken by Omari, aged 28. He had never been to school before TAMH encouraged his guardians to enrol him at the college. He had rarely left his home and could not speak. Now, one year later, with the support of teachers and students, Omari is learning to be a tailor and is speaking with increasing confidence. The photograph represents how the regular library and discussion sessions make use of TV and video to stimulate thinking and debate. Omari said "We get news from the TV and when I'm watching I can be well informed about what is going on around the world". During a group discussion about making education more inclusive, Omari also stated that "…parents should bring a letter to schools and say 'my child would like to study".
A book and a short film of young people's views of education, Young Voices – resulting from the participatory activities carried out at Bigwa, and at schools in Tororo, Uganda – will be available from EENET later in 2008.
Emma Machenje is Principal of Bigwa Folk Development College.
Contact:
Bigwa FDC
PO Box 330
Morogoro
Tanzania