Regional news
EENET Eastern Africa
In September 2007, EENET's Co-ordinator arranged a two-day meeting in Nairobi with people who were interested in starting a local inclusive education information-sharing network. Most were from Kenya, but there were also participants from Somaliland and Sudan. During the first day participants discussed the concept of inclusive education, while on the second day they looked at networking ideas and activities. It was decided that a network should be started, but it should aim to cover the whole East Africa region, not just Kenya.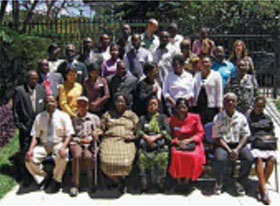 Meeting participants, Nairobi
Following the meeting a small voluntary management committee was formed for the regional network, and an email discussion group started. This email group has been very active, with members from Eritrea, Ethiopia, Kenya, Tanzania, Uganda and even outside the region. Discussions have looked so far at: the role of special schools in the development of inclusive education (see p.31); inclusion for deaf students; involving teachers more in inclusive education debates; and the need for sharing African experiences. They have also shared information about events and publications.
If you live or work in East Africa and would like to join this discussion group, please email: eenet_eastern_africa-subscribe@yahoogroups.co.uk. Please remember to write a short note explaining your involvement in inclusive education and why you want to join the group.
EENET Eastern Africa would like to hear from anyone willing to volunteer to help with expanding its networking activities. This might involve, for instance, helping to distribute leaflets and EENET's global newsletters, or assisting education stakeholders to write about and share their experiences. Please email the Evena Massae on easternafrica@eenet.org.uk to discuss your ideas. And of course the network would also like to hear from any organisation interested in providing financial support for its inclusive education information sharing work.
EENET Zambia
EENET Zambia was established in 2007. This national network is led by Francis Simui and Charity Namitwe, who both studied on the M.Ed. Inclusive Education course at Manchester University. While in Manchester, they learned about, were inspired by and did voluntary work for EENET, before returning home determined to support better information sharing in their country.
EENET Zambia aims to promote dialogue on inclusive education, to highlight the challenges being faced by Zambian communities and enable them to develop their own solutions.
Although still a new network, Sight Savers International Zambia has generously loaned office space, and a small website has been started. EENET Zambia is looking for articles and longer documents about inclusive education in Zambia to publish on the website. So if you have ideas and experiences to share, or if you could assist with developing the network's activities or funding, please contact EENET Zambia.
REDEinclusão – Portuguese-language network
Associação Cidadãos do Mundo (Citizens of the World) has now launched its Portuguese language inclusive education website – REDEinclusão. See: http://redeinclusao.web.ua.pt
The site contains a growing collection of inclusive education documents in Portuguese, as well as a newsletter. The first edition of the newsletter features articles from Angola, Guinea Bissau, Mozambique and Portugal.
If you would like to contribute an article in Portuguese to the REDEinclusão newsletter or website, or if you have any other questions for the network, please contact:
Associação Cidadãos do Mundo, rua Gago Coutinho, 6, 2710-566 Sintra, Portugal. Email: redeinclusao@gmail.com.
You can read an interview with Ana Maria Benard da Costa about her work to set up REDEinclusão on page 30.
EENET Asia
The Asia network continues to grow and has now published five newsletters. A regional email group has been set up. To subscribe, please email: EENET-Asia-subscribe@yahoogroups.com