Writing for EENET
We hope you have found this newsletter's articles inspiring. But do you feel moved enough to write about and share your own inclusive education experiences? We hope so! We know that many people are interested in sending articles to EENET, but they often don't know where to start with preparing their articles, or feel too nervous to send us what they have written. So here are some ideas to help you get started.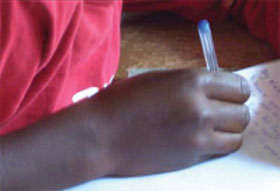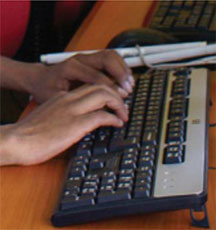 Who can write for EENET?
Everyone! We encourage all our readers to consider writing an article. We really want authors who have direct experience of inclusive education – for instance, as a teacher, a student, a parent, a youth worker, an activist or a campaigner, a local education officer, or a local NGO member of staff.
What if you have never written an article before?
Don't worry! You do not have to be an experienced writer. EENET can help you to develop your ideas and edit what you write. If you send us an article, which we think is not ready for publishing, we will offer ideas, or ask questions to help you collect suitable information. Don't be upset or put off if we ask you to do more work on your article. Every article we publish goes through a process of rewriting and editing.
Who decides which articles to publish?
EENET has an editorial team – the co-ordinator and several volunteer editors – which assesses articles and supports writers with advice and ideas. Each year we try to publish articles:
from countries not featured before
about aspects of inclusive education that have received less attention
written by or including the views of children and parents
that communicate in different ways – e.g., using diagrams, photos or drawings, instead of just words.
Every year we receive more articles than we can publish. So we cannot guarantee that your article will make it into the newsletter.
What can you write about?
You can write about any issue related to quality, inclusive education.
We encourage you to write articles that give practical advice. Avoid writing just about the theory of inclusive education. Instead, we want to know what you did, what you learned, and what impact this had on children's education in your situation.
Look carefully at previous newsletters to get an idea of the type of articles we publish.
We particularly need more articles about inclusive education in relation to:

refugees and emergency situations
early childhood development
secondary and higher education
life-long learning and vocational education
private schools
non-formal education.u
How much should you write?
The maximum is 600 words for a one-page article, or 1,200 words for a two-page article – less if you want to include photos or diagrams.
Other advice
Use simple language – short sentences; no abbreviations, jargon or academic-style referencing.
Break up your article into small sections, using sub-headings or text boxes.
Include quotations, e.g., from students in your school.
If you are using people's names, get their permission first, or change their names in your article.
If you send us a photo, make sure everyone in the photo (and the photographer) has given their permission. If there are children in the photo, ask their parents or guardians for permission to publish the picture.
We look forward to reading your articles!
This article was compiled by Ingrid Lewis and Susie Miles. A more detailed guidance document for authors is available from EENET.