Young people's views on early marriage and education, northern Nigeria
Danladi Mammani
Early marriage is more common in the northern parts of Nigeria. Here, many parents prefer to marry off their daughters at a very young age, for cultural and economic reasons. The rate of illiteracy among females is higher here than in the south. Recent studies have highlighted improved primary and secondary enrolment rates for girls. Girls who have dropped out of school, or not been enrolled in the first place, are likely to be pushed into early marriage. Marriage usually prevents them from starting or resuming their education.
Response to the problem
In recent years, states in northern Nigeria, such as Niger and Bauchi states, have enacted laws prohibiting the withdrawal of girls from school for marriage, but this is not being enforced. The Federal Government of Nigeria and the 19 Northern States Government have introduced initiatives to tackle early marriage and its impact on education (e.g. public sensitisation on girls' reproductive health and rights and the importance of allowing girls to complete senior secondary school; strengthening links between schools and communities to improve girls' retention in school; changing girls' attitudes towards education; and establishing more schools for females only). Some initiatives have yielded positive results: married girls/single mothers who had dropped out have restarted school, and parents have started to allow girls to complete senior secondary school before marriage and even proceed to higher education.
The Child Rights Act was enacted in 2003 by the Federal Government and many state governments are following suit. It states that every child, irrespective of gender and disability among others, has the right to good quality education and to complete his/her education. The Universal Basic Education programme was also established, providing for nine years of compulsory education.
All levels of government and some non-governmental organisations are taking steps to address early marriage and encourage children to complete school. This includes the re-establishment of guidance and counselling units in schools, the creation of gender sensitive curricula, making school environments conducive for learning, and involving communities and traditional rulers in schools affairs, etc. Many northern state governments have established secondary schools for married females. In Niger state, for instance, there is the Women's Day College in Minna, the state capital.
Yet despite this progress, there is still much to be done to tackle early marriage if the goals of Education for All are to be achieved. The voices of the children and young people affected by this practice need to be heard if successful solutions are really to be found.
Girl Child Empowerment Nigeria (GCEN) decided to seek children's views. As part of our work campaigning for the education of marginalised females, a group of 23 students from eight schools across Niger state was interviewed. They were asked what should be done to solve the problem of early marriage and its impact on children's participation and achievement in education. These views will feed into our advocacy work. They made many excellent suggestions, showing the importance of consulting young people. They have so much relevant experience from which education policy-makers can learn. Here are some of their recommendations:
Educate parents
"There are many things that need to be done to solve this problem of early marriage and education. Our government should first of all put more effort on enlightening our parents on the negative effects of withdrawing girls from school for early marriage. You know many parents here are still illiterate and don't know the importance of female education. So the government should first of all increase awareness before any other thing should be done." (Maryam Kudu, 15, female student)
Enforce laws
"I dislike early marriage because it creates many problem for females, especially in education. Girls should be allowed to complete senior secondary school before pushing them to marry. I learned that there is a law concerning the withdrawal of girls from school for early marriage. Why can't our government enforce the law so as to tackle this problem?" (Salamatu Dauda, 13, female student)
Support returning girls
"I have seen that some single mothers and married girls are always ashamed and afraid to return to their school because of some fellow students' and teachers' negative attitudes toward them. School authorities should please consider the feelings of such girls and help them by warning people to stop jeering at them. Those girls need encouragement and support to continue with their education which will help them a lot in future." (Esther Musa, 16, female student)
Encourage husbands to support their wives' education
"I hate to see my fellow girls withdrawing from school and being forced to marry. It is unfair and should be stopped. One of my best friends, Dije, is now a mother. I talked to her husband one day and asked him to allow her to continue with her education. The husband agreed but Dije is ashamed to come back to our school, so we told her to go to Women's Day College and continue. She and her husband are now making effort to get admission to the school. I want government to establish more women's day colleges in the country." (Ronke Adebayo, 16, female student)
Aim for full inclusion of married girls in the mainstream education system
"I will not be happy to see any of my sisters or school mates being withdrawn from school for any reason. The government should continue to enlighten parents on the bad effect of early marriage on education. Our government has done a good thing by establishing the Women's Day College to help married girls to continue with their education. However it will be better if such girls will be encourage to return to their former school and learn together with their friends." (Hassan Sadiq, 17, male student)
Peer support
"I never knew that I would be able to carry on with my education after giving birth, until three of my school friends visited me one day and talked with me on the possibility of returning to school to continue with my studies. I was reluctant at first, thinking that the principal will not allow me to come back to the school. But one of my friends went and talked to the principal and he quickly agreed, on the condition that I will have to repeat my last class. I went back to the school and continued with my studies. My mum takes care of my baby at home while I am in school. I wish other young single mothers like me will be encouraged to go back to school." (Safiya Sambo, 17, single mother)
Free education
"My father wanted to remove me from school some time ago, as he did to my elder sister who is now married. I refused and started crying. I then went and told my grandfather who came and talked with my dad. Later he agreed that I can continue with my school. I want the government to make education free, this will make many parents allow their female children to continue with their schooling." (Asma'u Zubairu, 11, female student)
Many of the students passionately appealed for Universal Basic Education to be extended to 12 years, enabling every child, particularly girls, to attain a minimum of secondary education. They strongly believed this would reduce instances of early marriage.
Rahinatu (16) is one of the hundreds of girls who have dropped out of school to get married because of the poverty of their parents. Her widowed mother could not afford to educate her beyond the junior secondary level."If education was made free for girls at senior secondary school level, many of us wouldn't have dropped out of school to get married", Rahinatu said.
Change government policy
Many students pointed out that the Federal Government's ongoing education reform programme should seriously consider early marriage as it affects education. They expressed a collective desire to lobby for policy reform on married and pregnant children in schools through the Children's Parliament in the state. Some of the students are members of Child Right Clubs in their schools. They now plan to use these clubs to lobby their school authorities to develop action plans to help married and pregnant girls return to school and continue their education.
GCEN is encouraging the young participants to take action towards their recommendations. We are giving them advice on how to make their cases heard by the appropriate authorities. We have also been sharing their suggestions with parents, teachers, head teachers, principals and education officials.
Danladi Mamman is a teacher and has been working with GCEN to promote inclusive education issues in Nigeria.
Contact:
GCEN
P.O. Box 4433
Garki, Abuja
Nigeria
Email: girlchildemp@yahoo.com or ladiman442@yahoo.com
GCEN is an NGO which aims to help girls and young women to realise their potential, develop skills and achieve empowerment. It encourages them to take up leadership positions. GCEN's particular focus is on girls and young women who have become mothers at an early age. GCEN has been working with EENET for several years to help share information about inclusive education in Nigeria.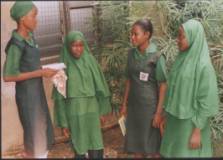 Students from schools involved in GCEN's research