Editorial
The latest Global Monitoring Report on Education for All estimates that 77 million children (aged 6-11 years) do not attend school, and that approximately one-third of these out-of-school children are disabled. The other two-thirds are said to be children from poor families, who live in poor households, and whose mothers have no education.
EENET was set up ten years ago to create conversations – within Southern contexts and between Southern and Northern contexts – about what inclusion means and how to make it a reality for all children. The articles in this newsletter show how education can be an enabling, rather than a disabling, experience – for all children. Education does not have to take place within the four walls of a classroom, and it is a lifelong experience. Sadly, though, formal education is too often a disappointing experience – even in income-rich countries. Yet in Burma, community-based teacher trainers working in a situation of violence and conflict explain what a difference quality education can make to a whole community.
Isolation from information can marginalise and further impoverish excluded groups of learners, and their families and communities. Our readers tell us that the information in this newsletter and on EENET's website can be more valuable than money. Such information opens up opportunities and encourages people to take action. It also provides inspiration by helping to 'make the familiar unfamiliar' – stimulating us to think again, and more deeply or analytically, about the situations and problems we see every day. Information about affordable and inclusive architectural design in an Indonesian school could stimulate others to do the same. An account of teaching teachers how to make visual aids in Liberia can provide ideas for how to make education more fun – with very few resources.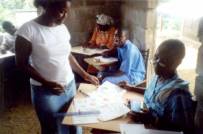 Pictorial learning aids workshop, Liberia
In this issue of 'Enabling Education' several articles focus on the participation of children and young people in the development of more inclusive education policy and practice. For example, they include accounts of using art and photography activities to involve children and young people in research, awareness-raising and school improvement initiatives. They also feature the voices of young people on issues such as child marriage and education, and inclusive education for blind students.
The implications of the ground-breaking UN Convention on the Rights of People with Disabilities are discussed on page 27. This is a new and important lobbying tool. Article 24 states that all children and young people have the right to "access an inclusive, quality, free primary and secondary education on an equal basis with others in the communities in which they live". Disabled people's organisations played a key role in the negotiations and will be centrally involved in its implementation.
The recent evaluation of EENET's work provides another focus for this newsletter, along with some reflections on how to network inclusively. And for the first time we feature an article that discusses the issue of private inclusive education (in Thailand).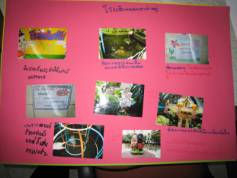 Children's photography project, Thailand
With all of the topics featured in this newsletter, we invite you to read critically, reflect on your own experience, and join in discussions – with the authors, with EENET and with your own colleagues.