EENET news
Anniversary events
In January 2007 we held EENET's tenth anniversary seminar in London. This was attended by representatives from about 20 organisations and academic institutions that work with or support EENET. Inclusive Technology (our website sponsor) also celebrate their tenth anniversary this year. They very generously invited EENET to share their anniversary reception. We are also very grateful to Inclusive Technology for encouraging and funding the production of EENET's new anniversary CD-ROM, leaflet and poster. Inclusive Technology has supported EENET's website since 1997, enabling us to reach readers in almost 200 countries.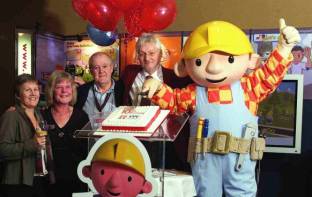 Susie Miles from EENET and the founders of Inclusive Technology celebrate 10 years.
(Children's TV character, Bob the Builder, is cutting the birthday cake!)
New EENET resources for the anniversary year
10th anniversary CD-ROM, containing:

an interactive world map showing stories and pictures from some of our thousands of members
all of the articles from our first 10 newsletters, reorganised thematically with new editorials
a small exhibition of photos taken by school children
a PowerPoint presentation and poster/leaflet downloads that introduce EENET's work

Leaflet: this summarises EENET's aims and activities.
World map poster: this shows some of the inclusive education activities and local networking that is happening around the world among EENET's members.
Translations poster: this displays the terms 'inclusive education' in about 30 languages and encourages people to do more translations of EENET newsletters and other useful documents.
All of these materials are available free of charge from EENET, while stocks last.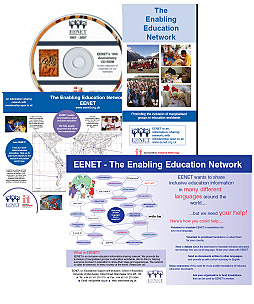 The past and the future
The last 12 months have been very busy! During the second half of 2006, a large-scale evaluation of EENET was conducted, funded by NFU Norway (a former donor to EENET). You can read a summary of the evaluation recommendations on pages 14-15. As well as reviewing our past achievements and challenges, we have also been planning EENET's future. An outline of our next 5-year plan can be found on pages 16-17.
Cover images: taken from birthday cards made for EENET by children and young people participating in KAYDA – the Katwe Youth Development Association, Uganda. We would like to thank these wonderful young artists for their colourful contribution to our anniversary celebrations!