Editorial
Why focus on teacher education?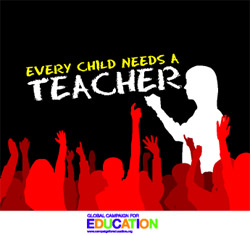 Every year the Global Campaign for Education (GCE) runs a 'global week of action' to campaign about a particular issue in education. GCE is a coalition of NGOs and teachers' unions in over 150 countries, which believes that quality education for all is achievable. The 2006 GCE campaign is entitled 'Every Child Needs a Teacher', but we would like to use this opportunity to highlight that 'every child needs a teacher…who promotes and practises inclusion in education'.
Children need teachers who know how to make their classes inclusive and how to address the diverse needs of all learners together – even in large, under-resourced classrooms. They need teachers who promote child-centred approaches. And they need teachers to use appropriate, accessible teaching and learning materials, with content that positively reflects the diversity of their society.
But teachers need help to develop the skills and experience necessary for becoming an 'inclusive teacher'. They need support to innovate and make changes. In this issue of Enabling Education, we therefore share experiences and ideas for improving the way we train and support teachers in an inclusive education environment.
Types of teacher education
Teacher education and support can take many forms, as the contributors demonstrate: formal pre-service training, in-service courses, hands-on teaching practice, distance learning programmes, further specialist training, higher education, and of course the ongoing exchange of ideas and experiences between teachers.
Broadening teachers' interpretations of inclusion
In this collection of articles, we hear about educating teachers to more effectively support certain marginalised groups of learners, such as deaf children or working children. While inclusive education is a concept for improving the way we teach all groups of learners, a number of articles illustrate a more disability focused view of inclusive education training for teachers. We need to ask ourselves: is the move towards a broader interpretation of inclusive education happening quickly enough in teacher education programmes? Are we helping or hindering the overall development of inclusive education through teacher training programmes that view inclusion as primarily about disability?
Experience vs theory
Several articles highlight the importance of hands-on training, without which teachers can struggle to turn new theory into practice. In addition, teachers need support to engage in ongoing exchanges of experiences and ideas on innovative practice, throughout their careers. But innovation is often quickly stifled, so it is particularly important that the people in charge of schools (head teachers, principals) understand and support their staff through training and change processes. We have included some articles here that reflect the kind of innovations that ordinary teachers are making every day, which we can use to inform and inspire other teachers.
Diversity of teachers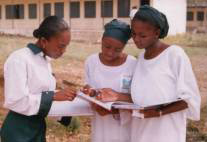 Photo by: Danladi Mamman, GCEN
We mentioned above that children need teaching and learning materials that reflect the diversity of their society. But they also need teachers who reflect this diversity, and who can act as role models for children vulnerable to exclusion. Teacher training programmes, like the one in Mozambique, which aim to train more disabled teachers, are therefore essential.
The same applies to issues such as gender and ethnicity, although we have received no articles that specifically address this. In many countries there are too few trained women teachers (especially in post-primary education) and women may face many social and cultural barriers to teaching. Yet if we want to achieve equal inclusion of girls in education we need to ensure that more women teachers are trained and supported, and that all teachers are trained to promote gender equity through their work.
Listening to learners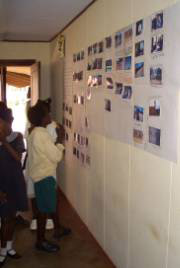 Zambian pupils exhibit their
photo project (EENET)
In many countries, ethnic minority groups experience high levels of exclusion from education, stemming often from language barriers. Teachers may be primarily from majority groups and lack appropriate skills to support learners' language and cultural needs, or may be reluctant even to work with ethnic minority groups in remote areas. Teachers from ethnic minority groups are often poorly trained. They may need extra support to complete full teacher training when the language of instruction is not their mother tongue. All teacher education programmes need to be aware of and address these sorts of issues as part of their efforts to bring inclusion to education.
Finally, we come to one of the most important, but least addressed elements in teacher education – the views of the learners. Learners of all ages have a vital role to play in helping us improve teacher education – after all, they spend more time with teachers than the trainers or policy makers do! In the centre pages of this newsletter, we hear from students at Westleigh school in England, who have used a photography project to debate and explain what they think makes a good teacher. How do their views compare with your ideas about what makes a good teacher? How could we use the opinions and ideas of students like these to improve the way we train teachers? What could you do to find out about the opinions of learners in your context?
"Adults don't realise that they can watch teachers for months, but never see how they talk to children, because they're at the wrong angle." (secondary school student, UK)
Teachers play a pivotal role in making inclusive education a reality. If their attitudes and practices do not reflect principles of equity and human rights, and if they are not supported to be innovative and make changes, then none of our policies and promises of inclusion can be fulfilled.
Language and terminology
We all struggle with language – in every country discussions take place about using language appropriately to describe particular groups of learners. The language we use reflects the complex inclusive education process. In Issue 8 of Enabling Education, Roger Slee is quoted as saying that inclusive education is a radical idea that rebelled against medical and psychological explanations of education difficulties. Yet in many places, even within innovative inclusive education programmes, terminology is still used which reflects a medical-model approach, emphasising the 'problems' with individual children and not the inadequacies of the education system.
As editors of Enabling Education we do not want to dictate the terminology used by authors. But we do challenge readers and authors to think about and debate the use of some of the terms that appear in this newsletter, which could imply efforts to change the child not the system. We all need to keep checking whether our terminology is keeping pace with changes in practice. We must also constantly monitor whether our practice really matches the inclusive education terminology we are using. In many countries it is not easy to make fast, radical changes to terminology. But as we all develop a deeper understanding of what inclusion means, we urge readers and authors to engage constantly with the way language about education and inclusion is used in their own contexts.