A good teacher …
has a good character
has good behaviour towards his/her pupils
is wise
likes to teach his/her pupils good lessons
likes to be close to his/her pupils during the lessons in many other things
makes the students behave well so that they can be good citizens

is approachable
can solve anyone's problem and can remove people from the darkness
warns pupils against dangerous things, for example, teaches them about diseases such as cholera and bilharzia
does not engage wrong groups, drinking, and using abusive language to students or other people
uses his/her time to teach the pupils about different aspects of life

has patience for everything
respects people in general
likes to help all students without discrimination
likes to elaborate the lessons to the students when they do not understand
likes to educate his/her pupils and others
likes to engage and collaborate with pupils in lessons and writing essays
is smart, patient, compassionate,
and likes to cooperate with pupils and people
My name is Fauzia Salim. I have decided to describe a good teacher.
EENET has created the diagram on the left side using Fauzia's ideas.
Such a teacher should be an example to other teachers. I advise my fellow students who have such a chance like mine to love their teachers, to respect and value them so that they can succeed in their studies. These students too can become good teachers or good citizens in their homeland or anywhere in the world.
Fauzia Salim, age 12, Zanzibar, Tanzania.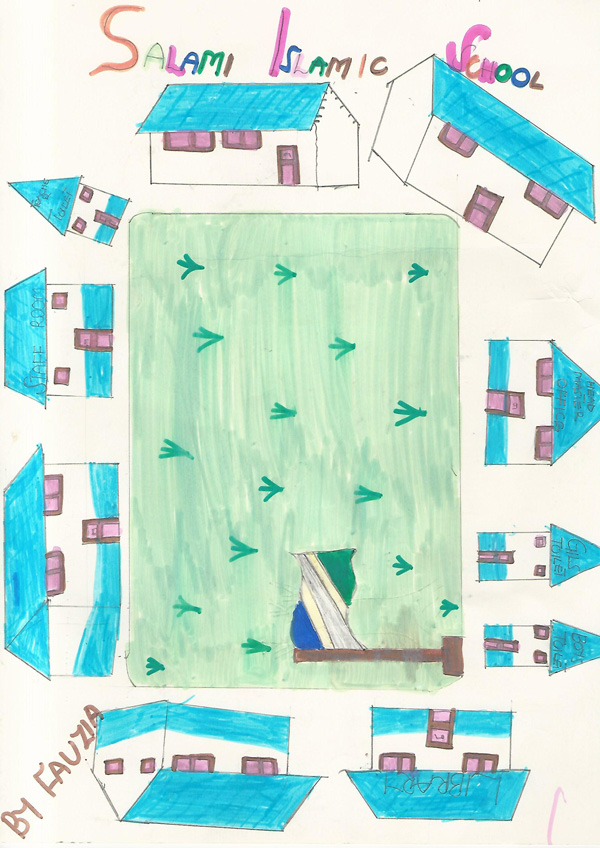 Diagram by Ahmed Muawin
A good teacher:
Thinking & reflecting own teaching
Promoting diversity & welcoming all
Good listener & guiding coach
Providing child friendly adjustments
Understanding differentiated learning
21st century inclusive teacher:
A good teacher must have 21st century teaching, learning skills and incorporating inclusive values:
Promoting positive attitudes towards inclusivity.
Understanding the good practice of curriculum adaptation and accomodation.
Exploring differentiated learning instructions and reasonable adjustments.
Teachers who learn
As a teacher you must be humble, gentle, respectful and obedient. Not only this, you must be intelligent so that when you teach students they may understand. If you are a teacher and you do not learn before coming to teach students, you will come to the class and mix things up. You must be a hard worker. You must be punctual and regular, and show the children their role to play in the school. You must go to school on time and make sure the environment is clean. You must learn to keep your school disciplined and fit and make sure all students are punctual and regular.
Elizabeth Bakionesu, Form 3, Ghana
My favourite teacher
My favourite teacher is Mr Hassan Yassif. He has taught for five years in my school and had risen to the ranks of principal superintendent. He is always very neat and smart. He performs his duties very well and always sees to it that everything in the school goes well. He always appears happy and smile on his face. Also when he teaches us and anybody does not understand something during his lesson, he always takes pains to explain the necessary part very kindly and with sympathy.
Munkayila Ayinawa, Form 3, Ghana
Hardworking teachers
A teacher, as we all know, is a person who teaches pupils in school and even outside the school. But when we talk about teachers we have difference types of them. For example, there are lazy teachers who are not punctual and regular at school and don't like teaching at all. We also have hard working or good teachers. They are punctual, regular and like coming to school early and make sure they teach well. And they also make sure the students' discipline is good and also give them good advice.
In the first place a good teacher is one who has all the qualities and the mentality of teaching and is ready to sacrifice his or her time to teach. A good teacher is one who develops a positive attitude towards work, like going to school early, being punctual and regular at school, being committed to your work etc. I therefore suggest that all teachers must develop good and positive attitudes towards work and I think when all teachers practice this, it will help us get good leaders one day to lead the country.
Lantede Kwasi, Ghana
The best teacher
The teacher I like best is Mr Abubakan Sumaila. He was my class teacher in primary six. He teaches at Souf-watil Islamic Primary School. He is a very good teacher and teaches more effectively than any other teachers in the school. He was not only my teacher but he was like a father to all of us, especially me. He is also my mentor and my hero. One thing that made me like him very well is that he treats his pupils like his own children. The subjects he likes teaching are Mathematics and English. He gives us advice, praises us when we do well and disciplines us when we misbehave. He also gives his pupils things they need. He is just like my own father and I like him very well. Above all, he always visits his pupils at their homes when we are sick.
Abubakari M. Hafiz, Form 2, Ghana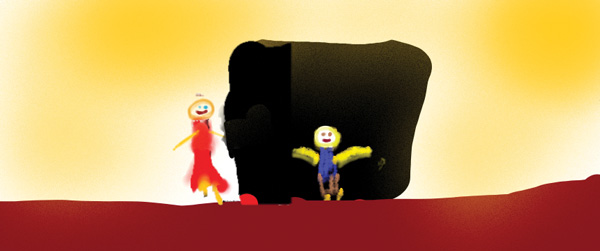 A good teacher lets the children take part in the lesson. I love technology. This is me at the Smart board having a go at the work with the teacher.
Lukas Corcoran Oien, age 8, USA
Ms Froffey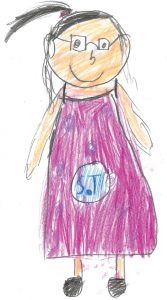 Ms Froffey is an amazing teacher, she is made up of Mrs Fraser, who used to be Miss Meller, and Miss Boffey, who used to be Mrs Daniels and before that Miss Boffey. Ms Froffey is kind, clever, she encourages good behaviour, she speaks politely and is firm yet fair. She is a super teacher and I would like to think she is around 5ft6, has wavy hair and glasses. She tries to make the topic interesting and accessible for all different abilities. She always has a sense of humour and goofs about and works in moderation. So this is Ms Froffey a fun and inclusive teacher.
Nancy Mellor, age 10, UK
Nancy is a Year 5 student with autism who attends a mainstream primary school in Manchester, UK. Nancy has two teachers she likes and decided to describe a perfect inclusive teacher, who would have all the best characteristics of her two favourite teachers.
Editor's thoughts
Teachers are such a big part of our schools. Without them, formal education will not be what it is today. Teachers can make or break students. Even though there will be other agents that can also influence students' outcome, teachers are at the forefront of making children into what the society requires.I have a teacher that I'll never forget, who in my final year of college was my anchor that shaped my character in the years to come. I missed a whole term of college due to unforeseen circumstances but thanks to her I was able to sit my January exams and submit my university application. Later I found out that I was not entitled to student finance, without which I would not be able to pay the fees.
During that difficult and emotional stage of my life this individual teacher encouraged me to finish off my A-Levels, and when I wanted to give up she reminded me of my aspirations. In a nutshell, that's how I overcame the wall of discrimination. I always remember her kindness to me. I am now a graduate who also dreams of becoming a teacher and all I could hope is that I am just as passionate in teaching as she was.
Teachers are doing their job despite the stress and overload. We should be thankful that we have them. Business men and women are being made, journalists, nurses and shopkeepers exist because a teacher educated them. They allow us to dream, set aspirations and make things seem possible; teachers care and help young people adjust into the society.
It's a shame that nowadays when people get into teaching, they see it as an alternative job because there is no job in the market with their degrees. Teaching should be seen as a prestigious job because the development of the future generation is in their hands. How can that not be exciting? How can being part of creating the future be an alternative job? Teaching by far is one of the most important professions in our society. The flow of knowledge keeps this world spinning and people creative as well as discovering.
So here's to teachers who help us become the best of us and do it with passion and excitement. You are the warriors of our society. The co-founders of our future, that is who teachers are.
Diana De Cendres Khasa, age 24, graduate, University of Manchester, UK.