A community school on a rooftop in Cairo: Climate, challenges, and successes
Mostafa Wafa
In areas that are politically insecure, the provision of education can be strained, particularly for children living in unstable home environments. In this article, Mostafa Wafa writes about the non-formal education he provides for children in a Cairo suburb.
Mish Madrasa
On a rooftop in Cairo's disadvantaged neighbourhood of Saft El-Laban, where the tips of the Pyramids of Giza are visible in the distance, you will find engaged and energetic students arguing about Aristotle. Sometimes they argue in the dark when the power is cut, which happens often. They are laughing, talking over one another, and asking questions. The students are often so excited to get to class that they push past each other to get through the door. This is Mish Madrasa, a community-based school, run by volunteers, on the rooftop of a dilapidated building that I own.
Mish Madrasa, in Arabic, means "Not a School", because it isn't a school in the traditional sense, but a community-based education effort. Mish Madrasa provides supplementary education to the students of Saft El-Laban, a disadvantaged and impoverished slum area located on the outskirts of Cairo. Currently there are only three government-run schools for 400,000 people in the area. In a country where more than a quarter of its population is illiterate (according to the Central Agency for Public Mobilization and Statistics), Mish Madrasa is providing an effective and flexible model for grassroots education.
An alternative curriculum
The volunteers at Mish Madrasa focus on providing supplementary education. The subject-matter is related to 'soft' skills such as tolerance, human rights, conflict resolution, literacy, empathy, character development and social inclusion. We aim to foster a culture of positive learning by providing experiences that will build responsible young adults and encourage a culture of tolerance, conflict resolution, and open-minded cooperation.
Mish Madrasa fills the gap where the community and school systems fail. Egypt was ranked at 111 out of 140 countries by the Global Economic Forum in 2015 for investment in education. Within the current structure, there is limited space for the children to express themselves. Critical thinking is discouraged and sometimes punished in school, creating an environment of fear. In addition, the teacher-student ratio can reach 1:120, particularly in more impoverished areas, making it difficult for both students and teachers to concentrate. The power is often cut during lessons. Most middle-class families send their children to private tutors, but families with low incomes cannot afford this. Our community-based programme adapts to their needs.
The students attending Mish Madrasa are the most vulnerable in Saft El-Laban. They are isolated with little or no awareness beyond the streets of their community and home. Some come from unstable home environments and live in extreme poverty. They are vulnerable to spending time on the streets where they may experience high levels of violence that results in their carrying knives. Many children are prime candidates for recruitment into extremist groups such as ISIS, who target such vulnerable communities. To develop critical thinking skills, to avoid such recruitment and prevent children from spending so much time on the streets, Mish Madrasa develops knowledge of human rights, and skills in tolerance and inclusiveness. Our purpose is to make them less vulnerable to extremist thought and recruitment, and close the gap created by inadequate community support and weak government-run schools.
Our teachers are volunteers. Most are undergraduates, or newly graduated members from the community of Saft El-Laban. Each session begins with a teacher volunteer checking attendance and homework, and then the lesson begins. The last half hour of each session is free time for children to colour, draw, play games, express themselves, and discuss issues and problems. We also supplement the government curriculum taught in public schools. There are limitations, as we rely on the volunteer teachers to create and decide the daily curriculum. Often it is being developed on the day of instruction. Therefore there is no overall comprehensive curriculum design, no integrated and scaffolded curriculum, but this is an aim for the future.
Providing a safe space
Between 30 and 50 children, both boys and girls, attend Mish Madrasa for approximately two hours at a time, five days a week. The sessions are held after their standard school day, usually starting at 5 or 6pm. These children are eager to come to Mish Madrasa even after spending all day at school. Mish Madrasa is their safe space: they take ownership of it, and each other. The volunteers at Mish Madrasa create a community for the children, away from the street, and the students themselves strengthen that community. They keep reminding each other that this place is their place. Many of the children attend Mish Madrasa regularly.
We continue to provide education in times of instability by creating a space they want to come to. As part of a partnership with RISE (Research Institute for a Sustainable Environment), we are now converting the Mish Madrasa rooftop into a green space which will include a vegetable garden and a space for science classes.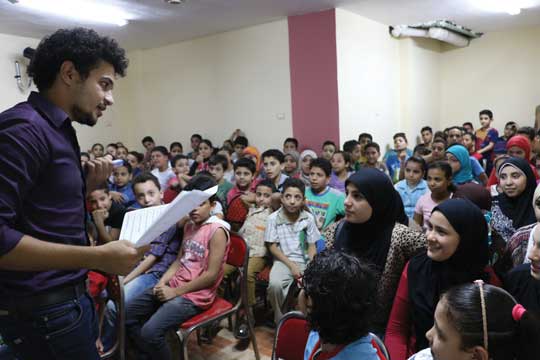 © Mish Madrasa
Salah is a star student. He was part of a group of street children who were wielding knives on the streets, getting into fights on a regular basis. Salah attends Mish Madrasa daily and is now the star student in history and philosophy sessions. He can read and write in Arabic and English, and has become a critical thinker. He shared a story about a conversation he had with a teacher in his government-run day school. He was able to question and analyse the information the teacher was giving about the Greek philosophers Socrates, Plato, and Aristotle. Salah has become a critical thinker who now prevents his friends from harassing girls on the streets of Saft El-Laban.
Challenges of operating in a politically insecure, unstable environment
It is difficult to line up, at once, all the resources that we need to run a school. Egyptian society is becoming closed and there are daily security incidents. We operate in a disadvantaged community with children who have very little. We need to find the right teachers, have the correct supplies, address the myriad needs of our students, find a way to hold class without reliable electricity or no money. We are constantly finding creative solutions and we get through step-by-step.
Mostafa Wafa is the founder of Mish Madrasa. Email: mostafa.waafa@gmail.com
Website: https://mishmadrasa.com/
Facebook: www.facebook.com/mostafawaafa