Glad's House is a not-for-profit organisation working with street-connected young people in Mombasa, Kenya. In this interview, Kelvin Mugwanga, senior social worker, tells us about how they adapted their education programme to meet the evolving needs of young people during the pandemic.
Tell us about Glad's House education programmes.
Usually, we run two main education programmes: Mobile School takes place on the streets where the young people are, and Papasa is delivered at our specially built facility in Magongo.
Our Mobile School is a large box on wheels that we take to different spaces on the streets. It contains different education materials and games that we use to rebuild learners' self-esteem. You can find out more about it in our article in EER 5.1 The Mobile School programme supports street-connected young people to access their right to play as they learn. We also provide one-to-one teacher-student engagement where possible, to focus on their specific level of academic ability.
The Papasa programme runs at our drop-in centre in Magongo, which is north of Mombasa Island so the young people have to make the journey from the city centre. At Magongo, different services are offered, such as non-formal education to boost literacy and numeracy levels, accelerated learning for those who are registered as private candidates for Kenya Certificate of Primary Education national exams, group counselling, life-skills sessions, and one-to-one engagements with case workers.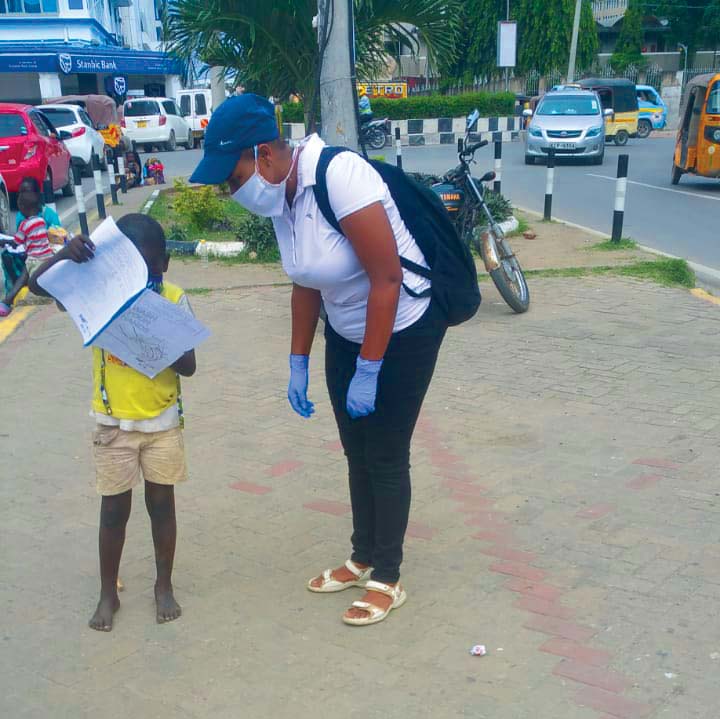 What were the main challenges facing your work with the children (and the children themselves) during the pandemic?
At the beginning of the pandemic, when contracting COVID-19 became a danger to staff, we had to limit our visits to the streets. Government restrictions on movement also limited the scope of our work. Working closely with the county government, we chaired a working party to ensure that we could maintain our contact with street-connected young people to provide the much-needed support at that time. We had to comply with the guidelines put in place by the Ministry of Health.
We refocused our education programmes to focus on important messages and awareness of the impact of COVID-19. We wanted to ensure that children could be safe at all times, as much as possible, and so they needed to understand the impact of the virus and also know that they had not been totally forgotten. As small businesses and markets closed, and other people left work on the streets that these young people rely on to survive, they were worried about where their next meals would come from. So we wanted to focus on their wellbeing.
There was an increase in the number of children on the street in the company of an older sibling, parent or guardian. We found that working with them as a family was challenging because of their conflicting interests. The children, for example, were interested in our street education activities, while a parent wanted the child to meet daily begging targets. Children found it difficult to decide whether to follow their interests or abide by their parents' instructions, especially if they feared being punished.
What did you prioritise in your work with the children?
Their safety was our first priority. We distributed masks to all street-connected children, youth and adults. We also set-up easily accessible hand washing and sanitisation points. As the situation worsened, we worked closely with the Department of Youth, Gender and Sports in Mombasa County Government to provide safe drinking water and food relief to all street-connected children and families.
How did you adapt education provision during the pandemic?
We developed booklets containing different drawing, writing and colouring activities that could be given to individual learners to work on for a few days. They would start them with the street educators, and could take them away to continue using them when we were not around. The activities were designed to help us understand their feelings, emotions and fears about the pandemic and we used them to inform our next intervention plans.
We focused more on drawing, colouring, painting and creative art activities to deliver key health and safety messages, and to pass on the all-important health messages. While they created, the young people would also talk to our educators and social workers for extra support.
What lessons have been learned that you will take forward in your future work?
The focus of our education programmes has been developed over a number of years with a population of young people who are already out of school and 'learning from home' in the loosest sense of the word. Therefore, we are already set up to support young people making the difficult transition back into education, and put their wellbeing first.
Most street-connected children have previously dropped out of formal schooling. There are many reasons why, and sometimes it is their experience of school that is the issue. Our research paper explains some of these.2 With this in mind, our non-formal education catch-up programme aims to accelerate learning and prepare learners for their next steps.
We conduct academic assessments on initial intake before signing them up to different groups according to their academic ability level. After some time, those who qualify to enrol in mainstream schools, and feel ready to make the transition, are placed in school. Those who choose not to go back, or would find the transition too difficult, are facilitated to register as private candidates and continue their learning with our educators at the centre. This has reduced the numbers of young people who drop out again compared to the past.
Age is a major challenge. Older learners enrolled in mainstream schools find it difficult to cope with being in classes with much younger children and often drop out. We now provide these learners with one-to-one focus to take them through the work as per their individual ability. Our new safe space facility in Magongo, which was opened in 2020, ensures that street-connected young people can access education regardless of their age or ability.
The centre also provides a space for children and young people from the local community, who are signed up as members for volleyball and boxing training. Training together with street-connected young people helps to combat the stigma that this latter group face. We are also extending access to sport and education for young people from a nearby government-run juvenile rehabilitation school (which provides residential care for young offenders), which gives them a chance to interact with other community members away from their secluded and locked-up facility.
[1] Enabling Education Review Issue 5: https://bit.ly/EER10-18
[2] See: https://bit.ly/EER10-19
Kelvin is a senior social worker at Glad's House.
www.Gladshouse.com