Promoting Inclusive, Learner-friendly Environments in the Asia-Pacific Region
Olaf Sandkull
The principles of inclusive education articulated in the Salamanca Statement were re-adopted in the Framework for Action at the Dakar World Education Forum in 2000 and form the basis for all UNESCO's activities in this area. UNESCO's regional office for Asia and the Pacific in Bangkok supports Education for All (EFA) in the countries of the region with a special emphasis on removing barriers to access and learning for girls and women, marginalised groups, disabled and out-of-school children.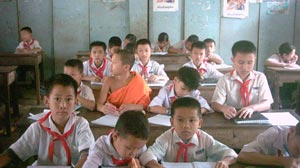 Every child has a fundamental right to quality education. Inclusive education is seen as a process of addressing and responding to the diverse needs of all learners and to improving the quality of education. However most schools in the Asia-Pacific region face many challenges in responding to children with diverse learning needs:
many teachers are not prepared to welcome every child in their classrooms
the community does not always provide support
national education policy and school management do not always support inclusive approaches.
Despite these challenges many countries in the region are making real efforts to reach out to all excluded children by applying inclusive approaches in mainstream education systems.
Regional co-ordination and technical advice is provided to the 13 field offices and 45 member states in the Asia-Pacific region on how to promote inclusive education. The Japanese Government is funding a project in Bangladesh, Cambodia and Indonesia entitled, 'Capacity Building and Resource Development of Basic Education Focusing on Combating Marginalisation and Exclusion'. The purpose of the project is to give countries experience in including students who are vulnerable to exclusion and marginalisation through developing welcoming educational policies, practices, curricula and cultures.
Developing resource materials
UNESCO Bangkok published a practical 'Toolkit for Creating Inclusive, Learning-friendly Environments' in April 2004. The Toolkit offers a holistic and practical way for schools and classrooms to become more inclusive, learning-friendly and gender-sensitive. It is aimed at teachers, school administrators and education planners and contains six booklets with the following information:
characteristics and benefits of inclusive learning-friendly environments
how to work with families and communities
practical ways of including excluded children
tools and ideas for making classrooms more inclusive, child-centred and gender-sensitive (two booklets)
creating healthy and protective school policies and services.
An English version of the Toolkit will be made available online at www.unescobkk.org. It will be adapted to the needs of specific country contexts and translated into several languages of the region. For more information on the Toolkit, please contact: gender@unescobkk.org
Commemorating the ten years since the Salamanca Conference in 1994
19-21 October 2004
A regional workshop on inclusive education will be organised in Bangkok together with UNESCO HQ. The purpose of the workshop is to share experiences of inclusive practices in the region and explore future strategies and action to promote it within the framework of EFA. More information is available online at: www.unescobkk.org
Mr Olof Sandkull is the focal point on inclusive education at the UNESCO Asia and Pacific Regional Bureau for Education in Bangkok.
He can be contacted at:
UNESCO Bangkok
920 Sukhumvit Road
10110 Bangkok
Thailand
Tel: +66 2 391 0880 ext. 312
Fax: +66 2 391 0866
E-mail: o.sandkull@unescobkk.org