Action-learning for Inclusion
Understanding Community Initiatives to Improve Access to Education
EENET started a 2-year action-learning project in April 2001, funded by the UK Department for International Development (DfID). Its aim is to help people who are involved in promoting more inclusive practices in education to learn from their experience of inclusive practice; document it; and share it with other people. The project focuses on school communities in Mpika, Zambia, and Dar-es-Salaam, Tanzania. In this article Susie Miles gives a flavour of some of the work so far.
Discussions in schools revealed the following reasons for children not attending school in Dar-es-Salaam:

Orphaned children;Children 'in difficult circumstances' (the preferred term for street children);
Over-age children;
Children who were not happy about the severe punishments they received;
Children who find the increased number of subjects too difficult from Grade 4 onwards;

Children who are fed up with the overcrowded classrooms and having to sit on the floor;
Children whose parents are sick and dying;
Girls who become pregnant from 12 years – 3 out of 50 every year;
Boys who feel 'too big' for school – 10-11 years onwards;
Boys, mainly, who become involved with 'street activities' such as drugs.
In July 2001 a 2 day workshop was held in Dar-es-Salaam to explore the 'research' methods. Colleagues from Zambia and UK were involved. In order to simplify the concept of 'research' we asked three key questions, 'What', 'How' and 'Who'.
1. What are the barriers to children's participation and learning?
What knowledge already exists?
What type of additional information do you need?
How will you collect it?
In order to identify barriers to inclusion, we used mind maps as a tool.
Salvation Army and Mgulani primary schools: A mind map
mind map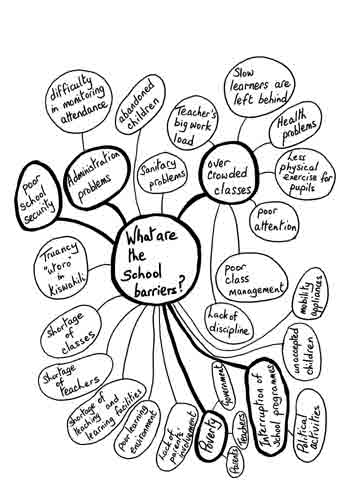 2. How can the barriers identified be addressed?
What strategies have already been used?
What other strategies might be useful?
How can these be introduced?
In order to formulate strategies to address barriers, we used a variety of interview techniques.
3. Who needs to be involved?
Who has been involved so far?
Are there others who might contribute?
What actions are needed to strengthen their involvement?
In order to identify who should be involved, we used brainstorming – or 'Bunga Bongo', in Kiswahili.
Key questions
How can people be helped to think about, document and learn from their own experience to improve access to learning for all?
How can we make this process empowering – particularly for practitioners and people from marginalised groups?
How can the particular experiences of one community speak to a wider audience?
How can 'outsiders' and 'insiders' best work together to improve practice?
Main aim: Supporting communities to produce their group stories
of participation and learning.

By

Using existing knowledge
Building on experience
Collecting information
Working together
Listening to different voices
Creating conversations

To encourage reflection, learning and the sharing of knowledge.

Outcomes

Accounts of inclusive activities.
Evidence of impact on practice.
Detailed notes on processes used.
Action-learning in Mpika, Zambia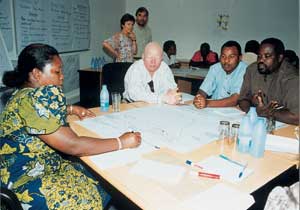 Encouraging teachers to reflect upon their practice has been the greatest lesson learned from the action-learning project so far. Paul Mumba has been working with 8 school communities in the Mpika area, in his role as school-based In-Service Provider for Kabale School, using the methods tried out in Tanzania.
Teacher reflection
Interviews have been recorded with teachers on audio-cassette, brainstorming has been used to facilitate group discussions, and the management of meetings with parents has been reflected upon using video. Paul is writing an account of the action-learning process. Paul's account will be 'negotiated' with the key stakeholders (children, parents and teachers) and then shared with the whole community.
Activities with children:
Girls and boys have taken photos of their group activities in the classroom and in the community. A class of girls has conducted a community survey to find out why so many girls are frequently absent from school, and the stigma surrounding HIV/AIDS has been role-played in lessons.
The methods used in Tanzania and Zambia will be written up as a set of guidelines for other communities to use by the end of 2002. If you are interested in trying out the guidelines, please contact EENET.