Building bridges, Russia
Denise Roza, Pam Mendelsohn and Yulia Simonova
Perspektiva is a Russian NGO that promotes inclusion in education and in society for people with disabilities. It has organised film festivals around disability and inclusion since 2002 and understands the power of images. One of its goals is to empower people with disabilities to be leaders and to bring about change in schools and the wider community. In this article Denise, Pam and Yulia explain about a project that helped students to acquire new skills, take pictures about their lives, and learn about and from each other.
In November 2005, 10 students, aged 12 to 15 years old, from school '1961' in Moscow, spent five days undertaking photography activities. Disabled children were paired with non-disabled children. Disposable cameras were donated by Kodak, and a local photo printing shop put the photos onto CDs, so that each day the photos could be shared and discussed.
Self-portraits
Children were first given instructions and a questionnaire. To the first session each child was asked to bring a favourite photo from home. They shared their photos and explained what they liked about them. In pairs they were then asked to take photo self-portraits. They discussed what they liked about these photos, e.g., the lighting, the positioning of the person, what the photo could tell us about the person, etc. Each pair chose three or four of their best photos.
The school environment
On the second day, the children went around their school and discussed how disability-friendly it was, and then took photos to illustrate these issues. They discussed their photos and again chose the best photos of the day.
Favourite people and places
The third task involved taking a picture of each pair's favourite place or places, and their favourite person in school. They talked about these choices and were asked to explain why they had chosen them.
Interesting objects
On the fourth day the children collected objects that they see every day at school. They considered how to make these very simple objects appear more interesting by using light, colour, or a different angle in their photos. Again photos were taken and discussed.
'My best quality'
Finally, each child completed the following statement on a piece of paper: "I know it's not good to boast, but my best quality is ……". They discussed their answers and how they could take a photo that would convey these qualities. Again they selected the best pictures taken that day.
An exhibition
At the end of the project the children considered what type of pictures are usually chosen for exhibitions; and which photos they should show at their event: what will interest the viewers, should they choose an everyday scene or object, or an unusual one, etc? They made their selections, created captions for them, and then exhibited them.
Follow-up
School administrators and teachers have been very enthusiastic about the project. So in March 2007, Pam trained five other photographers and Perspektiva staff in this approach. The photographers also participated in a disability awareness training session led by Perspektiva. Thus, the activities could be duplicated and carried out with 30 more children in three other schools, with on-going advice and support.
In May 2007, Giacomo Pirozzi, a UNICEF photographer, led further activities. He has worked with children affected by traumatic events in Beslan and Chechnya. Children aged between 14 and 17 years old were invited from six inclusive schools in Moscow. Working in pairs, they spent three days learning about the camera, light, images, colour, etc, and practising taking photos.
On the fourth day they had a field trip around Moscow. Beforehand the children discussed where they would like to visit and what topics they could photograph. They chose to visit tourist sites, but also an inclusive school and a residential institution for children with intellectual disabilities. The next day, they reviewed all of the photos as a group. Photos were projected onto a large screen. They chose the best photo and were given other awards, such as one for best work by a pair.
Results of the project
Many barriers between disabled and non-disabled children were broken down. The project demonstrated how positive attitudes and friendships can grow in a short time using a very simple, but powerful tool – a camera.
Photos have been exhibited at schools, in parks, at the American Embassy, and at the Marriott Hotel. Members of the donor and business community and children's relatives could view and discuss the photos. Since January 2008, the project has become a weekly activity in two Moscow schools.
Extensive media coverage of the project has led to people donating cameras so that more schools can develop similar activities.
This popular project has been replicated in six cities in Russia. In two cities it has become an annual summer camp activity.
The project has very effectively promoted the message that all children can and must be educated together. The activities demonstrate to other children, teachers, school officials and parents what disabled and non-disabled children can do when given a chance to live, work and learn together.
"This photo workshop taught me to 'catch the moment'"
Zhenya Shirkina is 12 years old and is in the 7th grade. She does everything with her feet, including eating, writing and painting, as she was born without arms. She has many friends at school, takes classes in drawing and painting, and dreams of becoming a professional photographer or an interpreter.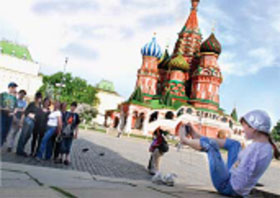 Zhenya photographing her friends in Red Square
"I now see the world differently."
Zhenya Lapin is 13 years old and uses a wheelchair. He is also in the 7th grade, and loves dancing, reading and travelling to the sea. Zhenya sings in the UNESCO choir in Moscow. He wants to become a Hollywood film director. For the photography project, Zhenya and his friends visited an orphanage for children with severe intellectual disabilities, which they found to be a very moving experience.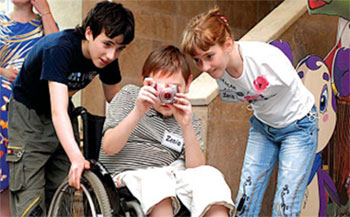 Zhenya practising his photography skills
We recently developed a photo-illustrated guide on how to organise similar activities, which is available in Russian on Perspektiva's website www.perspektiva-inva.ru/files/downloads/building_bridges_brosh.pdf, or by writing to the address below.
Denise is Founder and Director of Perspektiva. With its 50 disabled and non-disabled staff members, Perspektiva has developed and implemented training, outreach, public education, advocacy and information-referral activities. Yulia is Perspektiva's Education Project Manager. Pam is a professional photographer and disability rights activist, based in the USA.
Contact:
Perspektiva
8, 2-Frunzenskaya, Moscow 119146, Russia
Tel: +7(495)245-68-79, 7(499)242-50-94
Fax +7(495)245-68-79
Email: denise@perspektiva-inva.ru
Web: http://perspektiva-inva.ru/