Community participation in mother tongue based multilingual education in Bangladesh
Mathura Bikash Tripura
In Bangladesh, most children from indigenous ethnic minority groups are disadvantaged by an education system that does not recognise their language, culture or future livelihood realities. They are taught in Bengali, a language they do not understand. Many quickly lose interest in school and leave. In the Chittagong Hill Tract region, the drop-out rate for indigenous children is more than 60%. In this article, Mathura outlines a project that promotes quality, inclusive education, with a strong focus on mother tongue education, and which has community participation throughout.
Project background
The Chittagong Hill Tracts region has diverse cultural and ethnic communities, and complex administrative structures. Until 1997, decades of political unrest had left the region isolated from the rest of the country and from development initiatives. Around half the region's population belongs to various ethnic indigenous communities, the rest are Bengali. Historically, teachers did not speak the same language as their students and the host community, and they were not officially allowed to use local languages, only Bengali.

Local materials are used to help children develop their language skills
In 2006, Zabarang Kalyan Samity (ZKS), a local NGO, initiated a project called Shishur Khamatayan: Children's Action Through Education with the support of the Save the Children Alliance. The project aims, by 2011, to ensure indigenous children receive a quality, inclusive education and participate in decisions that affect them, supported by national, regional and local policy and practice. It is being implemented in three sub-districts – Khagrachari Sadar, Panchari and Dighinala – in 60 pre-primary centres with 1,259 indigenous children, of whom 631 (50%) are girls. The government department of education and the local government authority are closely involved.
The project promotes indigenous children's education by first developing a strong foundation in their own mother tongue, through multilingual pre-primary centres. They then gradually learn the national language as they make the transition to mainstream schools. This approach allows children to progress well through school, maintaining their own language, culture and identity but ultimately still gaining access to the official language.
"I attend school regularly because my teacher teaches me in Tripura [language]. I like to play with the colourful ball very much. I want to be a school teacher when I grow up."
Apusmoy, aage 5, Salkatal Pre-school
There are two main areas of work within the project – education and child participation.
Education component
The project introduces a two-year multilingual pre-primary programme in target communities, with children enrolling at the age of four. The students are taught entirely in their mother tongue in the first year, to build their confidence. Preparation for literacy through oral practices is introduced. Gradually students enter into pre-reading, pre-writing and subsequently pre-maths activities. In the second year, children begin to read and write in their mother tongue and continue with oral mother tongue. In the second half of the year they also begin to learn oral Bangla.
Community participation
As multilingual education is a new concept in Bangladesh, we started the process with community involvement activities, such as consultations and awareness-raising activities. We involved community leaders in all activities. People initially had varying perceptions of multilingual education. One community leader thought "…the concept of mother tongue based education is a great idea for the betterment of indigenous children's education, but it may take as long as fifty years to make this dream a reality".
We involve and respect the leaders of each language community we work with. For the Chakma language development process we established relations with the Changma Academy, an organisation of Chakma language practitioners. For 'Kokborok' – the Tripura language – we involved the Bangladesh Tripura Kalyan Sangsad, a national organisation of Tripura people. And for the activities relevant to the Marma language, we involved the Marma Unnayan Sangsad as well as a number of monks who practise both reading and writing the language regularly.
"There is no alternative to mother tongue education. It is the only means of ensuring good quality primary school education."
Indira Chakma, a female leader in Khagrachari District
We prepare drafts of education materials then organise community reviews, workshops and exhibitions. A broad cross-section of the community reviews the materials and suggests changes and/or additions, e.g., decisions on the issues of spelling, standard uses of scripts, themes for the teaching/learning materials for multilingual pre-schooling, etc. Community members oversee each level of activities. Each community has a Centre Management Committee which has overall responsibility for the management and monitoring of the pre-primary centres. They also encourage parents to send their children to school regularly, oversee the construction of centres, appoint teachers and monitor their attendance, inform the parents about the monthly parents meeting, visit the centres at least three times a week, and maintain the building.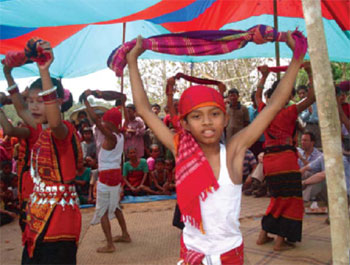 Children participating in a community celebration
Child participation component
This component of the project was only started in 2008, and focuses on active learning and citizenship. Quality, inclusive education emphasises the active participation of all children in the classroom and school, helping them to participate in decisions that affect their education and issues within the community and wider society, thus creating an environment where their voices are heard. The project aims to achieve this through awareness-raising and capacity-building, involving children, school teachers, parents, and community members. We have facilitated the formation of 60 child organisations, and 10 'community learning circles' to ensure child participation in the decision-making processes of their communities. Children are receiving training on leadership.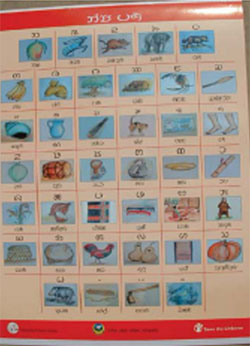 An example of alphabet charts developed by the project
Mathura Bikash Tripura is the Executive Director of Zabarang Kalyan Samity. Contact:
ZKS
Khagrapur, Khagrachari Sadar
Khagrachari-4400
Bangladesh
Tel: +88 (0)371 61708 / 62006
Email: mathura.tripura@gmail.com
Web: www.zks-bd.org