Language for National Reconciliation: Southern Thailand
Suwilai Premsrirat
Patani-Malay is the language spoken by 83% of people in the four southern provinces of Thailand. On-going violence and political unrest in this area are largely a result of language issues and identity crisis – Malay identity, as reflected by the Malay language used in daily life, is not officially recognised by the government. Compulsory education in the Thai language results in poor attendance and achievement among Patani-Malay-speaking students. They gain few working skills and have limited prospects for higher education and employment. Many fear education is being used to destroy the local language and religious identity. In this article, Suwilai outlines a mother tongue based bilingual education programme designed to help Patani-Malay-speaking children retain their Malay identity at the local level and achieve a Thai identity at the national level.
Introducing the programme
A nine-year participatory action research programme is being conducted by Mahidol University linguists and a Patani-Malay-speaking research team. It covers eight school years, from Kindergarten to Grade 6, with one year of preparation. The programme supports Patani-Malay-speaking children to speak, read and write well in both Patani-Malay and Thai. Patani-Malay is used as the medium of instruction from Kindergarten to Grade 1, so that children gain the necessary skills in listening, speaking, reading and writing in their mother tongue, before learning Thai. Patani-Malay Studies, in which Patani-Malay language is the main component, is also taught throughout primary school. The Education Act allows up to 30% of the curriculum to be locally determined in this way.
The Government now recognises the advantages of mother tongue learning. It introduced a 'Mother Tongue Education Policy' for the first three years of primary education, but currently lacks the resources to effectively implement it. The policy aims to provide mother tongue materials (e.g. translations of the national curriculum) for all 52 local languages spoken in Uganda, but so far they are only available in six. Many teachers also lack training in how to integrate mother tongue and English language instruction.
This is where the Education Action/LABE's project, funded by the UK's Department for International Development, comes in. With a particular focus on girls' and women's education in Northern Uganda, we are facilitating the development of a range of learning activities and resources in mother tongue languages. The project places language at the heart of our strategy to promote education, and we hope to expand this in future programmes.
Programme objectives
Language Situation Survey – to gather information for programme planning.
Awareness-raising about the benefit of mother tongue based bilingual education. Mobilising partners for the programme activities, e.g., a local research team of academics and village scholars, including four experimental schools.
Develop a writing system for Patani-Malay using Thai-based script, building on academic as well as native speaker acceptance and technical feasibility. This will help children to transfer to using Thai as the main medium of instruction.
Develop a curriculum, using Patani-Malay and Thai as the medium of instruction, which contains more local content, yet maintains educational standards.
Develop teaching materials and graded reading materials in Patani-Malay and materials to support students' transfer to using Thai.
Recruit and train bilingual education staff: teachers, writers, local culture experts, workshop organisers, etc.
Evaluate learners in the experimental schools and compare with those in other schools.
Build co-operation among governmental and non-governmental funding and technical assistance organisations, influential people in society and the mass media.
Develop and establish a supportive national language policy.
Challenges
Using the local spoken language in education as a way to promote development, peace and prosperity is a new idea that some find hard to accept because there are few previous examples of such work in Thailand.
Many people think that language and script are the same, and that script is more important than the spoken language. This proves problematic. Jawi script (based on Arabic script) is commonly used in the region for writing, but this means the writing is done using Central Malay language, which is different from Patani-Malay language. People use Central Malay language in religious contexts where they can memorise texts, but this is not suitable as a medium of instruction in schools for children who speak Patani-Malay as their mother tongue. Efforts to use Thai script instead have been controversial. Opponents believe such efforts could make the teaching and writing of Jawi script redundant. Those in favour of using Thai script believe that Jawi script is currently inadequate for writing Patani-Malay, but that Jawi will continue to be taught in religious schools, while Thai-based script will only be used in secular schools. The bilingual programme will consider incorporating the Jawi script at a later stage.
The pilot schools are in an area experiencing political unrest and violence, making it difficult to monitor progress of the programme.
Despite the support provided by the programme, the benefits of teaching Patani-Malay within the formal education system are not yet fully understood by some authorities dealing with security and education issues. Even though higher level government officials generally accept bilingual education, some do not have confidence in the use of mother tongue as a medium of instruction through to the higher grades.
The biggest challenge is how to incorporate bilingual education principles into the curriculum and teaching/learning materials.
Success to date
The local research team has been actively involved in developing written language, curriculum, lesson plans, teaching materials, songs and graded reading materials in Patani-Malay and Thai. The team consists of language teachers, educators, linguists, Islamic committee members, village scholars and young co-ordinators in various communities.
Awareness-raising activities have been conducted among communities, academics, educators, officials and religious leaders.
Consultants from SIL International have provided technical assistance.
Governmental and non-governmental funding agencies such as UNICEF and Thailand Research Fund have promised funding for the first three years.
Academics, government officials, mass media and members of the public have offered encouragement and support, agreeing that this type of education will meet the needs of local people and assist with national reconciliation and internal security for the whole country.
New teaching materials for oral and written Patani-Malay have been carefully developed by a group of native speakers, including local teachers and educators from various fields.
Teachers of Patani-Malay have been given detailed training, from planning lessons to teaching and managing bilingual classrooms.
The popular Total Physical Response method (TPR) is being introduced along with other new techniques in child-centred education. TPR involves students initially remaining silent while the teachers use the language being taught to instruct them to make physical actions.
People from Malay-speaking communities have been actively participating in the programme, especially in producing graded reading materials about local stories or local culture and knowledge.
"Using Patani-Malay as the language of instruction from Kindergarten to Grade 1 will spare little children from the confusion and fear of having to learn in a language that is not their mother tongue. The change should have been done long ago." School Director, Narathiwat province.
Creating a sense of security
Despite the obstacles, this project has earned the trust and confidence of the local communities. They value the efforts made to preserve their language and culture and to respect their Malay identity in education. They see this as a move towards lasting reconciliation and understanding. Ultimately, they feel more secure in the education system. The future success of the programme relies on the continued support and good faith of all participants. This project lays the foundation for significant improvements in the prospects of the children in the south of Thailand. It is in line with growing awareness that the linguistic and cultural rights of minorities demand the attention of governments and policy-makers, who have a responsibility to preserve and protect such diversity, wealth and heritage from abuse or extinction.
Suwilai is a linguist who works with endangered ethno-linguistic communities on language revitalisation programmes, and is the project director for the Strong Bilingual Education Programme in Southern Thailand. Contact:
Suwilai Premsrirat
Institute of Language and Culture for Rural Development
Mahidol University,
Salaya,
Phuthamonthon,
Nakhonpathom 73170,
Thailand
Email: lcspm@mahidol.ac.th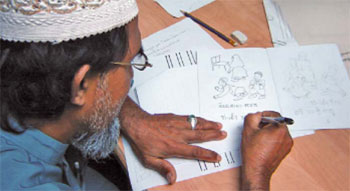 A villager writing a story using Thai-based Patani Malay