Anne E. N. Musalia
For a long time, the idea of inclusive education didn't make sense to me. I felt that it was only possible to include children with mild impairments, and that special schools are best for children with special needs. Ironically, I am a mother of a hearing impaired child; an example of a parent who has struggled with the segregated and sub-standard schooling for my child. I also work with the Ministry of Education in my country, Kenya, at the policy-making level. In 2004, I won a scholarship for a masters degree in education in Pakistan. It is through this programme that I have seen the realities of inclusive education, as this article shows.
As part of my teaching practice I was allocated a Grade 5 class in one of the largest inclusive schools in Pakistan. The class had many children with special education needs; including three children with cerebral palsy, one hearing impaired child, one with autism and several others with learning difficulties. Initially I felt a bit puzzled; how could anybody expect me to teach such a class? I stayed with them for two weeks, did my anecdotal observations and tried to forge a relationship with the children. At the end of the two weeks I had six lessons of social studies during which I taught about the 'Olympic Games'.
I used my creativity to design the learning activities. I got the students to volunteer into peer groups, with emphasis on the importance of respect for difference. The response was positive, with most children trying to prove that they were capable of working with and helping each other.
Those lessons are the most memorable of my 11-year teaching career. The students drew, painted and made project books about the Olympics. We had such a large collection of pictures and newspaper cuttings about the Olympics. On my last day we held an exhibition, displaying our work and demonstrating some of the Olympic events. During this period, I never remembered which child had special needs and which one did not. The co-operative groups and the buddy strategy worked so well that everybody did what he/she was best at. My role was only to facilitate.
But then the class teacher told me that she was not happy with the way I had exposed the children with special needs. She told me she prefers to have them quiet in class, because that is what their parents prefer, and that other students should not know their weaknesses. She made me feel guilty, that I had betrayed the parents and children, and the excitement I had felt was lost.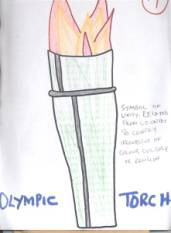 Example of
pupil's project work
Recently, I went back to the school. I was welcomed by the teachers. The same teacher who had disapproved of my teaching said "we are grateful that you have come back, you taught us to be inclusive, now the children we thought were handicapped are now the most active members of this class. After you left it proved impossible to silence or to separate these children." She also said the parents are happy because their children are now learning like the rest.
Reflecting on the way I conducted my lessons, I am convinced that, as Mel Ainscow said, teachers have more skills than they use. They only need to be prompted into making use of those skills to meet the diverse needs of their learners. I realised that the issues of disability are only in the minds of grown ups; children are very happy to work with and help each other if well facilitated. It is teachers and policy makers, like myself, who make the learning environments disabling to children, though most often this is through lack of knowledge. Teacher educators and policy makers need training opportunities to help them participate and learn from experience. Being there in the classroom and gaining practical experience through interaction is the best way to learn, not just the theories and research findings we read from books.
As I go back to Kenya, and to my job at the Ministry of Education, I am proud that I will go back flying high 'The Inclusive Flag'. I did it and I know inclusive education is a reality
Anne is a Senior Quality Assurance and Standards Officer in the Special Needs Education Department in Kenya's Ministry of Education. Contact:
Anne Esendi Ngoda Musalia
P.O. Box 13304-00100
Nairobi
Kenya
Email: anngomu@yahoo.com