Asia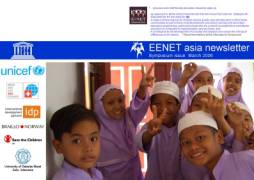 EENET Asia – the enabling education network for the Central, South and South East Asia region – published its first newsletter in July 2005. Its second newsletter is just being printed and distributed, and looks at some of the issues discussed during an international symposium run by the network in Indonesia in September 2005. It also contains articles on topics such as: education in emergencies; child labour; HIV and AIDS; accessibility; and successful inclusive and child-friendly practices in schools and communities.
EENET Asia's editorial team invites ideas for themes for future newsletters. If there is a topic that you feel the Asia newsletter should focus on in more detail, please let the editorial team know. Some issues they would particularly like articles on include:
links between religion and children's rights in education
development of 'child-friendly school' approaches in different countries
educational rights and inclusion from parents' perspectives
formal and non-formal education programmes, and how they can link
education for minority communities, and children living in conflict, post-emergency situations, or in exile.
What's it like running a regional network?
We asked the EENET Asia team for their reflections on their first year of running the new network. Anupam Ahuja explained:
"This work is really great fun but demanding (with a capital D!). Yesterday was the only day in the past three months that I did not work on our second issue of the EENET Asia newsletter. There is so much to do… write to people, share our mission, motivate them to write, follow up, edit articles, share my thinking with the other editorial team members (who are based in different countries across the region), agree and disagree, acknowledge contributions, reflect on the past… and constantly keep thinking about what next. Now I understand why Susie (from global EENET) said, when we chatted in 2000, that EENET takes 9 months to bring out one newsletter…. It is a PROCESS!!"
The EENET Asia newsletters are available in print, Braille and electronic versions, as well as in other languages (e.g. Bahasa Indonesia, Russian and Urdu). To find out how to obtain copies, you can email asia@eenet.org.uk or write to: EENET Asia & IDP Office, Universitas Sebelas Maret, Jl. Ir. Sutami 36A, Surakarta, Jawa Tengah, Indonesia. You can also download the newsletters from EENET's website.
Regional workshop for South Asia
EENET Asia is involved in the organisation of a UNESCO regional workshop for participants from Afghanistan, Bangladesh, Bhutan, India, Maldives, Nepal, Pakistan and Sri Lanka. The workshop, which focuses on the development of inclusive and child-friendly education under the umbrella of Education for All, will take place at the end of November 2006, in New Delhi, India. For more information, please contact Johan Lindeberg, UNESCO Bangkok, P.O. Box 967, Prakhanong Post Office, Bangkok 10110, Thailand. Email: j.lindeberg@unescobkk.org
Pacific
Discussions are under way about starting an EENET-style network for the Pacific region. If you would be interested in joining such a network, or even helping to host and run the network, please contact Donna Lene, Inclusive Education Project Co-ordinator (Pride, Samoa) P.O. Box 981, Apia, Samoa Email: donna@samoa.ws
Translations
EENET needs your help! We really want to be able to offer this newsletter (and other inclusive education documents) in other languages, so that more readers can access it. We can't afford to pay translators, but if you could volunteer to help translate a newsletter (or even just one or two articles) into any other language, then we really want to hear from you. Contact EENET.