Donate to EENET!

Donate
GBP 5

Donate
GBP 10

Donate
GBP 25

Donate
GBP 50

Donate
GBP 100

Donate an amount
of your choice:
How will we use your donation?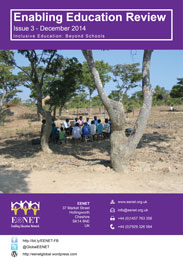 Website
Your donation will contribute towards the annual cost of maintaining this website, which now contains over 800 documents and videos about a wide range of inclusive education issues.
Enabling Education Review
We remain committed to providing our annual publication in printed format, for readers who cannot access the internet. The cost of printing and posting the Review increases every year. Your donation will help to ensure that we can make a hard copy version available to those who need it.
Translations and alternative formats
We want to translate more of our documents into other languages, and offer more of our resources in alternative formats, such as Braille and audio, but we need donations to help us do this.

New publications
We have lots of ideas for posters and leaflets containing easy-to-read, practical guidance on inclusive education. Your donation could help turn ideas into reality.
How can you donate?
Online via PayPal
Donate
GBP 5

Donate
GBP 10

Donate
GBP 25

Donate
GBP 50

Donate
GBP 100

Donate an amount
of your choice:
Send a cheque by post 


Send cheques payable to "EENET CIC" (in GBP sterling only) to:
EENET CIC
PO Box 422
Hyde, Cheshire, SK14 9DT
UK
Direct bank transfer
Please contact us for details
Thank you for your support!
A bit more information about EENET
Since 1997 EENET has been providing a free resource collection and information service for anyone interested in making education more inclusive. Our website has been used in over 200 countries, by anyone from parents, students and teachers to government ministers. We have provided information that has helped our readers to design teacher training courses, write government policies, lobby for their children's access to education, and much more.
EENET is run on a very small annual budget and we strive to keep our operating costs as low and as sustainable as possible. To fund our free information activities we raise income via grants/donations from other non-governmental organisations and from individuals, and by providing education consultancy services.
EENET is registered as a CIC under English law (CIC no. 07023142) – that means we are a non-profit social enterprise. You can find out more about CICs from the CIC Regulator's website.
Please help EENET to keep providing free information and advice by sending us a donation.