Understanding Community Initiatives to Improve Access to Education
A report of a workshop
Tanzania Global Development Learning Centre
Dar-es-Salaam July 16-20 2001
Summary
This report is an account of the first workshop held in Dar-es-Salaam, Tanzania as part of the Department for International Development - UK (DfID)-funded action-learning project, 'Understanding Community Initiatives to Improve Access to Education'. The workshop was organized by Dr Joseph Kisanji, Director of the Tanzania Global Development Learning Centre, in collaboration with Mr Mawesi Mwiga, Coordinator of Special Education in the Ministry of Education. The workshop was facilitated by Professor Mel Ainscow (University of Manchester), Mr Patrick Kangwa (Zambia), Dr Joseph Kisanji, Ms Susie Miles (EENET), and Mr Paul Mumba (Zambia).
| | |
| --- | --- |
| | |
The workshop was attended by representatives of the 5 schools involved in the Ministry's Inclusive Education programme: Wailes, Kibasila, Mgulani, Kurasini and the Salvation Army school. There were also representatives of 4 disabled people's organizations; the Tanzania Association of the Mentally Handicapped (TAMH), the national parents' organization; a youth organization; and the Department of Educational Psychology at the University of Dar-es-Salaam.
The first day of the workshop consisted of 3 main activities designed to answer the What, Who and How questions of promoting change and greater inclusion. Three different participatory methods were used to tackle each question: mind maps; interviews and brainstorming. Participants worked in their school groups. Each group had at least one of the disabled people's representatives.
Breaking the action research down into these three simple questions helped to simplify and demystify the term 'research', or 'action learning'. The use of 3 different methods helped to demonstrate those methods and to familiarize the participants with a variety of different approached to gathering information from key stakeholders.
The 'research' tools used on the first day were reviewed, and other possible strategies and methods were discussed. These were divided into the following broad groups: talking; watching/listening; writing; drawing/mapping; and action.
Building on the previous day's analysis of their school situation, participants chose one major issue to address. They formulated this into a strategy and then did some step-by-step planning. Mount Kilimanjaro was used as a picture prompt for their strategic (how) action. They had to name the barriers (what) they were likely to meet on their way up the mountain. They listed the key people who would help them achieve this at the bottom. They drew pictures at the top of some of the things they hoped to achieve when they reached the summit.
The Workshop
The workshop was planned and facilitated collaboratively. The participatory methods and activities demonstrated in the workshop helped participants think more deeply about their own situations. It is hoped that, on their return to their places of work, they will have the confidence to become action researchers and reflective practitioners. The overall approach of the action-learning project, and of the workshop, can be summarised as follows:
Main aim: Supporting communities to produce their group stories of participation and learning.

By:
Using existing knowledge;
Building on experience;
Collecting information;
Working together;
Listening to different voices; and
Creating conversations.

To encourage reflection, learning and the sharing of knowledge.

Intended Outcomes

Accounts of inclusive activities.
Evidence of impact on practice.

Detailed notes on processes used

.
This summary of the project was referred to throughout the workshop. It was used as a checklist to ensure that we were being true to the project aims in everything we did. The workshop can be seen as a microcosm of the project itself. Participants will be able to refer to this summary as they carry out their own research.
Ice-breaker
Patrick Kangwa led a very energetic ice-breaker. We had to imagine that we were on a boat which was about to sink. When we were given the instruction, we had to rush for the lifeboats. Patrick called out the number of people who were allowed in each boat. Numbers were as small as 1 and as large as 5. When we had formed into groups of 3, we were asked to sit down and have a short discussion to get to know the members of our group and discuss expectations of the workshop. The groups formed during this activity were randomly organized simply for the purpose of 'breaking the ice'.
Activity 1: What
This session was about identifying barriers.
The tool used in this session was mind maps.
What are the barriers to children's participation and learning?
What knowledge already exists?
What type of additional information do you need?
How will you collect it?
Working in school groups, participants were asked to 'map' out the barriers they face in their schools. This was a group brainstorming activity where the barriers identified were organized into a diagram, or mind map. Some maps were organized into themes, such as resources, environment. Others were more random, and the connections between the barriers were marked on later with arrows, or different coloured pens.
Some of the main issues arising were:
Large class sizes;
Shortage of teachers;
Lack of teaching aids.
Click here to view the mind maps drawn by the groups.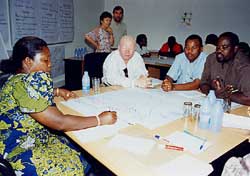 Activity 2: How?
This session was about formulating strategies for addressing the barriers.
The tool used in this session was interviews.
How can the barriers identified be addressed?
What strategies have already been used?
What other strategies might be useful?
How can these be introduced?
The purpose of this exercise was for the participants to think about the ways in which they could address the barriers they are facing in their schools. This thinking aloud process was to help identify the strategies that could be used.
Each school representative was asked to talk aloud about their school, and to reflect upon the difficulties they face and ways in which they have already addressed these difficulties.
Each school group had 2 school representatives. These included headteachers, class teachers, parents and school committee members. The school representatives were asked to work separately with their own listener and note-taker. They came back together at the end to compare notes on the information that was given about the same school.
'Interviews without questions'

Interview rules
Each group has 2 representatives, and can therefore work in 2 groups.
Each school representative should have a critical friend and a notetaker.

Interview roles

| | |
| --- | --- |
| School representatives role: | to think aloud. |
| The role of critical friends: | to be active listeners. |
| The role of notetakers: | to note down everything that is said. |
Reflections on the interview exercise
Some school representatives had no difficulty in 'thinking and talking aloud'. They were confident in their speaking ability and had lots to say. For others, however, they were lost without questions, or prompts. The rules for more structured interviewing are, of course, different, and involve a consideration of open and closed questions.
Similarly some listeners were more active in their listening, and noted every detail of what was said. Others found it more difficult to give the speaker their full attention, and preferred to ask questions.
Each representative had their own 'stake' in the school, and their own unique perspective on how the school functions. A comparison of the notes taken by the two groups at the end reflected these differences, and therefore went some way to telling the whole story.
At Mgulani we have 3097 children and 81 teachers. We have included 8 children with 'mental retardation'. At first we were afraid that the pupils wouldn't co-operate with our inclusive education initiative. Later we realized that children don't see the differences. The children have got friends.
We need to build on the pupils' interests. We need to make games to help them learn. For example, if they have difficulty saying the vowel 'a', we sing and jump until at last the child can pronounce 'a'.
We are able to solve any problems that arise by co-operating with parents. The parents have helped us to build two new classrooms so that we can reduce the class sizes down to 35 children.
Some of the strategies that emerged from this session were as follows:
Parental involvement;
Short courses and exchange visits for teachers;
Food for children;
Using local materials to produce teaching aids;
Raising money through charity walks to build more classrooms and reduce class sizes.
Activity 3: Who?
This session was about involvement.
The tool used was brainstorming.
Who needs to be involved?
Who has been involved so far?
Are there others who might contribute?
What actions are needed to strengthen involvement?
The purpose of this exercise was to think as broadly as possible about the people who could become involved in addressing the barriers facing the schools. A list was produced by each school group.
Rules of brainstorming
Bunga Bongo - in KiSwahili
Aim to produce a long list of suggestions.
All ideas are written down.
Take turns around your group - you can 'pass' if you have nothing to say.
No discussion or questions.
Build on other people's ideas.
Some examples of those who could become involved are as follows:
parents
children
teachers
people with disability
people with goodwill
school committee
factory owners
wealthy people
merchants
government

local government
ministry of Education
NGOs
international organisations
donors
media
politicians
intellectuals
researchers
religious leaders
Evaluation
This was a short and simple exercise. Participants spent 5 minutes reflecting on the day. The method used was sentence completion:
The thing I enjoyed most about today was......
The thing I found most interesting today was......
Participants were invited to share their reflections if they wished. Some of the comments made were:
The way we all worked together;
I didn't know anyone at the beginning, but now I feel we are a family;
The sense of humour of the facilitators;
The commitment of the teachers;
The difference between the 2 accounts of the same school.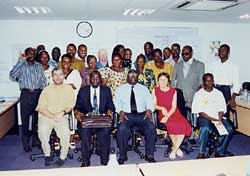 Review of research tools
The participatory action learning methods used on the first day were discussed and divided into five headings: talking; watching and listening; writing; drawing and mapping; action.
1. Talking
Interviews using open & closed questions, or thinking aloud;
Prompts;
Tape-recording;
Brainstorming ideas - working in groups.
2. Watching/Listening
Video and photographs;
Observation techniques:
How do people relate to each other?
Does everyone participate?

Teacher - teacher;
children - teacher;
children - children;
parent - teacher.
3. Writing
Diaries;
Reports;
Letters;
Emails;
Children's writing;
Sentence completion.
4. Drawing/Mapping
Mind maps;
Support diagrams;
School performance flow diagrams;
Statistics;
Graphs - numbers/pictures;
Cartoons;
Children's pictures.
5. Action
Role play;
Drama;
Puppets;
Dance;
Songs/Action songs.
Research for all: Everyone can participate in research. It was stressed that these are all valid research methods which can be carried out with children and people who are not able to write or speak English. Everyone's views and experience is important and should be recorded in whatever way possible. We hope that new methods will be developed in the Tanzanian and Zambian schools as the project progresses.
Step-by-Step Planning: The Kilimanjaro Approach
"We're going to use an approach that's never been used anywhere else in the world: The Kilimanjaro approach. We'll teach people in the UK how to use it!"
Key Question: Which aspect of the life of the school do we need to develop?
Working in their school groups, participants were asked to agree upon one priority issue to be addressed. They referred to their mind maps where they had brainstormed the major barriers to inclusion and quality education.
The main purpose of this exercise was to use the experience of brainstorming what, who and how, on the previous day, to address one particular issue in order to bring about change. Two school groups chose to focus on the development of teaching and learning aids. Another group chose the reduction of class sizes.
The groups spent a long time agreeing upon their key strategic issue. The group which chose the reduction of class sizes, in particular, debated for a long time. They were determined, however, that this was the main obstacle to progress.
Each group was asked to draw the shape of Mount Kilimanjaro. Boulders, or barriers, were drawn on the way up the mountain. A list of those people who would be involved was written at the bottom of the mountain. Pictures were drawn at the top to represent what they hope to achieve. Click here to see an example of the type of poster produced.
Evaluation
The final evaluation was carried out more formally with the completion of a form. The participants were generally very appreciative of the workshop. They enjoyed it and said that they had learnt a great deal. Almost all of them said that the 'course' was too short. Several commented on the fact that the translation into KiSwahili had not been well organised, and it was clear that they had struggled with the level of English required. One of the participants was extremely disappointed that the two Zambian facilitators had only been able to facilitate the first day of the workshop. Their contribution had been much appreciated.
Appendix 3:
Future Action
School groups
The following advice was given to school groups in formulating their plans:
Make use of existing knowledge.
Remember people already know quite a lot.
Listen to different voices.
Listen to what people have to say, particularly the children.
Maximise participation and communication.
Keep everybody involved.
Ensure accessibility.
Check that everybody can see, hear and understand.
Use observation. Look closely to see what really happens.
Challenge taken-for-granted assumptions.
It's helpful to question what is said.
Develop a strategy for leadership.
Decide who will help to make things happen.
Co-ordinating Committee
Occasional visits to the schools;
Provide support to school communities;
Hold regular meetings;
Record developments, through diaries & 3-monthly reports;
Help demonstrate and develop action-learning methods.
EENET
Keep in touch - through the newsletter and correspondance;
Support to the research committee;
Publish experiences;
Report to the Department for International Development (DfID);
Help organise a follow-up workshop - March - April 2002 (provisionally).

Fatal error: Uncaught Error: Call to undefined function mysql_connect() in /home3/eenet/public_html/reference.php:6 Stack trace: #0 /home3/eenet/public_html/resources/docs/tanzania_report.php(342): require() #1 {main} thrown in /home3/eenet/public_html/reference.php on line 6