Inclusion and Deafness, Linking the Family, School and Community
Elina Lehtomaki
Abstract
The core of any community is the family. All over the world, it is the family that provides the first models for social interaction, social security and assistance throughout a person's life. Applying Clausen's (1986) sociological life course perspective on deafness, education and inclusion draws our attention toward the role of social interaction. Both in-formal and formal education aim at preparing the deaf child for productive life and active participation in the community. Deafness requires the family to review the role of social interaction in the child's development and to learn new ways of communicating or even a new language. Education for deaf children is organised by more or less inclusive approaches. The mode of schooling affects the participation of the family in the deaf child's education. It is suggested that the family, school and community need to share the ideas and goals of education and inclusion in order to create conditions for community level inclusion. Examples from Mozambique and Tanzania describe the culture-bound non-formal and formal deaf education within the life course perspective. The participants at the Inclusion and Deafness seminar (EENET, Manchester,1999) contributed to the discussion and their observations and comments are also reported here.
1. Life Course, Deafness and the Family
All over the world it is the family that provides basic security and assistance to people. Family structures differ but in any case social interaction usually begins within the family. Participation in family matters and in any non-formal as well as formal learning is based on social interaction. The early childhood experiences of social interaction predict future social behaviour and life-course orientation according to the social psychological approach (see e.g. Rutter & Rutter, 1993). The sociological perspective views life-course as constant social interaction in a variety of contexts in the community from early childhood to late adulthood (Clausen, 1986). See Figure 1. The life plans of the individual reflect values, traditions and rules of social environments. Economical, political and social changes influence the community and, also the family and individual resources, opportunities and life-course. Individuals with sufficient social interaction skills and positive experience of social contexts cope well with these changes. (Elder & Pellerin, 1998; Elder & Caspi, 1988.)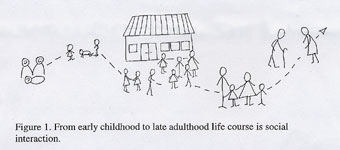 The social psychological and sociological life course perspectives suggest that deafness may limit rather than facilitate the constant social interaction in a person's development and life. The consequences may be life-long. How to support fluent communication and satisfactory social interaction between the deaf child and the family early enough? How to provide support when resources are limited and professionals few?
Experience, ideas and suggestions are discussed in the following sections. The examples describe the culture-bound non-formal and formal deaf education within the life-course perspective. The examples are from surveys and seminar reports in Mozambique (Lehtomäki &Viniche, 1998; Ministry for Coordination of Social Action, 1997; Vogelaar et al. 1995) and Tanzania (Ministry of Education and Culture, 1998). The seminar participants reflected on the topic in their reports and their comments are summarised in the discussion here.
2. Reflections on social interaction and deafness in the family
In 1997 in Mozambique, the provincial level Community Based Rehabilitation (CBR) coordinators were given a seminar on hearing-impairment, deafness and communication and trained to work with families in their communities. They tried out various communication methods in order to transmit some important daily messages to adult deaf collaborators. Observers assessed which methods and languages worked out efficiently, in which situations, for whom among deaf, hard-of-hearing, deaf-blind persons and which caused more misunderstandings. When talking about, and jointly analysing, the meaning of communication, most parents were astonished how much information is transmitted in daily conversations, and how much information deaf family members constantly miss.
"I never knew that she was not my mother, I grew up thinking she was my mother. It is only now I know she is my aunt, my mother's sister. I do not know why I don't live with my mother. Nobody ever told me. I would like to ask my aunt."
An adult deaf woman, Mozambique, 1995
It is important to discuss communication and analyse the role of the family. Interviewing adult deaf people and asking about their childhood memories and experiences is an effective training method. In order to converse in a collaborative way most deaf adults also need preparation as some of their childhood memories may recall the feelings of great isolation. Other families' communication experiences, their examples of deaf family members who participate in daily routines and have succeeded in school or work often reduce the social stigma sometimes attached to deafness.
In Mozambique and Tanzania families usually live in multi-cultural and multi-lingual situations. The mother tongue or home language differs from the official language and the language of education in the country. Deafness requires the family to learn and use alternative communication or even one more new language, Sign Language, in order to facilitate the child's overall development and learning in social contexts. The learning of new methods, or a language, may be effective if alternative communication is respected, instead of emphasizing one method or language, spoken language or Sign Language, as the only solution to satisfactory family life. In order to communicate some families develop home signs, others use pictures, gestures, mime, lip-reading and supportive signs with speech. According to interviews in Mozambique, the experiences of deaf people vary widely with regard to their feeling of inclusion in families. Interestingly, those families that have accepted their child's hearing-impairment, are aware of the needs and rights of the child. They attempt to communicate and involve the deaf child in daily affairs.
Allison Callaway reported that in China, as in many other countries, parents and families may be interested in learning new ways of communicating and Sign Language, but time and resources are limited due to poverty and work-load. Usually in rural areas, long distances and transport problems are barriers to participation. Regular home-visits require resources. In Papua New Guinea, Sian Tesni observed that sensitising the family and community and encouraging them to develop communication with the deaf child is a practical and cost-effective solution. One of the concerns in Sri Lanka is that parents do not spend enough time with the deaf child and it is difficult to develop communication, Richard Jeevanesan reported. Consequently the deaf child does not participate in daily work and does not learn in every day social contexts as other children do.
3. The Hidden Deaf People without Education
The transition from home to school is an essential step in the life-course. According to the United Nations Report on Disability and Human Rights (Despouy, 1991) most countries legally define basic education as a right of every citizen. Studies among people with disabilities, however, suggest that education is a privilege. The World Federation of the Deaf estimates that about 20% of deaf people in the South have access to education (Joutselainen, 1991). The new education policies of Education For All and Inclusive Education in the 1990s have hardly changed the exclusive situation (Buchert, 1998; Ministry of Education and Culture, 1998; Lehtomäki & Viniche, 1998). Why don't deaf children attend school? Are there no schools?
There seems to be several reasons for the poor educational situation of deaf children. In the 1990s the state educational capacity has decreased in the South (Schafer, 1999). Very little is known about the enrolment rates and education of the disadvantaged groups suggests E.B. Temu (1999). How will deaf education become a priority? Education planning requires statistics and research. It is difficult to provide statistics of prevalence of hearing-impairment in children due to the lack of audiological screening of young children (Bastos, 1998). This means that education for deaf children is not included in national planning. How to find deaf people in the community early enough and promote their inclusion in the education system?
In Mozambique, the experience of community based rehabilitation coordinators, was that it is hard to find young deaf children. Often children are identified deaf when they are about to start, or have entered, school and fail to sufficiently understand speech, or to speak. Deaf children may remain at home if their families and home communities are not aware of the common right to education and learning abilities of deaf children.
In Afghanistan, Soo Choo Lee of SERVE reported that, deaf children stay at home especially in rural areas that are difficult to reach. All over the country, deaf girls and women are hidden from view. They are not able to communicate due to the use of clothing that covers the mouth and most part of the face. However, awareness among parents and families is increasing due to home-visits by the CBR programme and basic health and education services, which are gradually developing. In Swaziland, according to Lucky Ngatha, parents and grandparents usually first recognise deafness in children. They search for assistance but this is often too late for language learning and the important first years of social interaction, Jackson Mbuusi observed.
Deaf people and their families play an important role in awareness-raising since they live with deafness or with deaf people. However, training and collaboration skills are needed for successful sensitising of communities. Awareness through collaboration was the key issue during the training seminar for the CBR coordinators in Mozambique. The whole training was designed so that the CBR coordinators collaborated daily with adult deaf people and families. Small teams were formed to create awareness about deafness in the community. Each small team consisted of CBR coordinators, deaf and hard-of-hearing adults and family members. See Figure 2.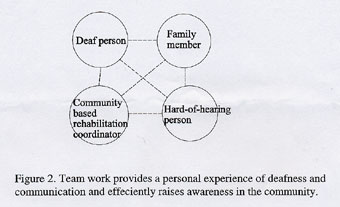 The idea was to show the communities how communication and collaboration among the team members worked in practice and to give a personal experience of deafness for the whole team. The deaf and hard-of hearing adults were prepared to show their ability to hear and their preferred ways of communication. The teams reported that many families, children, community leaders and others came in with information about a "similar kind" of people in the family, neighbourhood and community. In one case two families, living next to each other did not know they both had deaf family members. Information from the CBR reports and interviews in Mozambique were compiled into a national report on deaf people's situation by the Ministry of Coordination of Social Action for distribution to various partners (Vogelaar et al., 1995). Similar multi-sectoral information campaigns, information distribution and advocacy activities were reported also in Papua New Guinea and Uganda.
4. Families and the Change from Exclusion to Inclusive Education
Miles (1996) sees disabled people as an essential and committed resource in promoting the right to education. There are several examples of this concerning deaf education. In Tanzania, the Association of the Deaf initiated discussions on education and language rights with the parliament. They started collaboration with the university in order to influence education decision makers by research reports. Jackson Mbuusi reported that in Uganda the change happened due to public awareness. A deaf member of parliament attends parliamentary sessions with Sign Language interpretation. There is also interpreter training, interpreters in the schools, subtitles on television and a broad special educational needs assessment and teacher education programme. In Swaziland, Rose Nxumalo reported that the deaf clubs and national association have the power to sensitise the hearing community. How does the education sector collaborate with and use this resource?
Too often adult deaf people, deaf clubs and associations are an unknown resource to the education sector. In Uganda, Tanzania and South Africa deaf people or associations are organising short courses in Sign Language for teachers. This was also suggested by Sian Tesni for Papua New Guinea. Teacher education certainly needs deaf adults to improve the communication skills of teachers both in basic and in-service training.
In order to provide teachers with sound communication linguistics skills, and Sign Language should be included in the teacher education curricula. Another possibility is to provide interpreter training and facilitate educational interpretation. Both of these options require financial and human resources.
Are parents and families an unused resource in the promotion of the deaf child's right to education? In Mozambique, active parents have a key role in advocating their children's right to education and creating awareness in education authorities. In three districts families in collaboration with the CBR coordinators initiated special classes for deaf children within local schools. In 1998 our discussion on inclusive education with the national director of basic education was interrupted, because families and deaf people demonstrated in front of the ministry and demanded education. Education for deaf children or children with disabilities had never been one of the government's priorities.
Family background and involvement contribute to education and predict academic success regardless of the hearing status of the child (see e.g. Easterbrooks, 1999; Moores, 1996). Both in Tanzania and Mozambique it was found that family support had a great influence on children's access to education, but not necessarily on the quality of education they received, or the level they reached. There was still very little awareness about the deaf child's right to education among families and the community. Discussing the lack of awareness among education decision makers parents often suggested exactly the same thing:
"Let us hope and pray that the president or the prime minister will get a child with hearing impairment or at least with disability. Then there would be schools and teachers..."
A mother interviewed during a joint meeting of province level CBR and education coordinators and NGO representatives in Mozambique, 1998.
Education is an effective selection process and awareness is needed, starting from families, as cost-sharing strengthens the selective component of education (Galabawa, 1994). Special schools, often funded by charitable organisations, may provide free education, but far from home. Local schools may require contributions that families may hesitate to pay, as there is no guarantee that the deaf child will succeed at school. Selection may lead to the social exclusion of deaf people.
In Papua New Guinea education is not free and parents hesitate to invest in their deaf child's formal education as learning seems to proceed with difficulties and there are other children to educate, too. Sian Tesni suggested that the outcomes of the inclusive approach linked with teacher education and a support system would provide educational success and accordingly encourage parents' contributions.
During the teacher education seminar in 1998 (Ministry of Education and Culture, 1998) the Tanzanian school inspectors, head-teachers and special education teachers were asked to look at how the few special units and schools were integrated into the local communities and, secondly, into the district, regional and national education infra-structures. The main factor contributing to the effective inclusion of the unit or school seemed to be the school management and parents' involvement. Those schools, units and teachers who reported good collaboration with the local authorities had more resources. Also, the schools/units that reported having community integration activities, were also the ones that had developed their communication competence, e.g. through Sign Language courses for teachers, in collaboration with the National Association of the Deaf. Interestingly, one school with active community and parent involvement had better security than other schools. The school supported parents to establish an association. In collaboration with parents the school arranged informative meetings with community leaders. The school obtained job opportunities for the former pupils in the community.
5. Conclusions
Discussing deafness and inclusion, or the preferred educational setting for the deaf child, we find benefits and disadvantages both in inclusive schools and in special schools. In his paper, Joseph Kisanji discussed notions of inclusion. Within the policy of inclusive education there is a chance for flexible implementation, bearing in mind that education requires communication in order to facilitate active learning. Formal education is to provide knowledge and skills for living in the community. Returning to inclusion that begins within the family and the importance of effective collaboration between home and school, we may look at Figure 3 and ask the following questions:
How will the parents/family follow the child's development?
How do the family and the child communicate daily matters?
How often do they communicate compared with other children in the family?
How do the parents/family and teachers see deafness, the meaning of education and inclusion? Do they share their ideas?
How do the family and the school collaborate?
How does the home-school collaboration facilitate learning and participation in the age-related daily tasks of the family and community?
How do the family, school and community collaborate?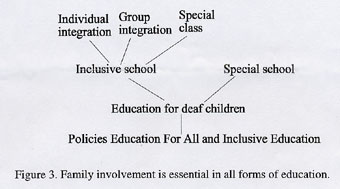 It is highly unlikely that we can achieve much in our efforts to develop deaf education, suggested Lucky Ngatha from Swaziland. When and where should we address the language question? Whom do we mean by we? It was discussed earlier that life-course involves constant social interaction and the early years are essential for future inclusion. I recall for effective collaboration between families, community based and health programmes, audiology services, education planning and provision, adult deaf people, non-governmental organisations and communities. Do we have a common goal, are we to facilitate meaningful social interaction in the life course of a deaf person?
From the life-course perspective we have emphasized social interaction that begins within the family and therefore argued that support to the family is essential for the deaf person's later inclusion in the community. Schools, whether special or inclusive, that collaborate with the family and community tend to be more productive, measured by the degree of community inclusion. For the deaf individual, family and community the outcomes of education are evaluated in the life-course. Does the deaf person see himself as a member of the family and community? Is the deaf person a productive and active member of the family and the community?
6. Suggestions
Bearing in mind the sociological perspective we need to learn about family, deafness, and social interaction in the life-course. Families with deaf children and adults who are deaf from childhood may enlighten us in this perspective and the importance of social interaction throughout life. The crucial culture-bound social and cultural values are maintained and transmitted primarily by families and non-formal education. This means that deafness and inclusion are not family but community issues. Active families contribute to the changes in their communities, even in school. An effective part of CBR work is bringing families together, providing information and facilitating collaboration among them and with the community.
Effective multi-sectoral collaboration is essential for the collection and distribution of information on prevalence of deafness in children, exclusion from schooling and life. In order to bring about changes various sectors, health, community development, social and education government agencies together with non-governmental organisations (NGOs), deaf associations, and communities need to combine their efforts. International, bilateral governmental support and foreign NGOs tend to have great impact on policy and action changes in education sector (Buchert, 1998; Schafer, 1999). Viewing deaf education in the life course perspective and as a responsibility of the community, means that we are to start inclusion from two ends, in the family and in the community. Education is in between, serving both.
While waiting for the change to come, when a powerful political person demands quality deaf education for their deaf child, I would like to make some suggestions in order to bring about significant and sustainable change:
Instead of perceiving inclusion as a national policy or as an activity at the local school level we need to lobby so that all education sector programmes become inclusive. We need to look at flexible solutions for inclusion and deaf education and secure real learning outcomes.
Education is based on communication. Meaningful education for deaf people aims at including them in the community and society and, not only at the local school. For sustainable results, teacher education needs to analyse communication and languages, contexts and methods. How does the teacher best transmit knowledge and train skills needed during the life course of the deaf person?
Families and deaf people are important partners or stakeholders for the implementation of inclusive education and sensitising the community to the needs and rights of the deaf child. They live in the community and deafness is part of their daily life. They need to broaden their perspectives beyond the home community in order to find new solutions. We need to facilitate the sharing of ideas across partners and borders.
Conducting joint analytical and participatory planning with all community partners and stakeholders is important for locally adapted policy implementation solutions.
Action research at international, national and regional levels could be carried out in order to create awareness and build capacities. Research could be connected with teacher education, school management training, curriculum development and participatory community work, including various partners and stakeholders.
Among education sector collaboration partners there is a need for a study of the inclusive education component of the general sector programme. Does it increase the deaf children's access to education and awareness of educational needs in decision makers?
Assessing the education outcomes we need to explore various perspectives. Does education have meaning to the deaf individual, family, community and society?
References:
Bastos, I. 1998. Teaching primary ear care in a developing country, Experience from Tanzania. In Hearing Disorders in Childhood - Treatment and Prevention, NU, News on Health Care in Developing Countries, 1/98, p. 23-27.
Buchert, L. 1998. Education reform in the South in the 1990s. UNESCO Publishing.
Clausen, J.A. 1986. The Life Course: The Sociological Perspective. Englewood Cliffs, NJ: Prentice-Hall.
Despouy, L. 1991. Human Rights and Disability: Final report. United Nations, Economic and Social Council, Commission on Human Rights, 4/Sub.2/31.
Easterbrooks, S. 1999. Improving practices for students with hearing impairments. Exceptional Children, Vol. 65, No. 4, p. 537-554.
Elder, G.H. Jr. & Caspi, A. 1988. Human development and social change: An emerging perspective on the life course. In N. Bolger, A. Caspi, G. Downey & M. Moorehouse (eds.) Persons in Context: Developmental Processes, p. 77-113. New York, Cambridge University Press.
Elder, G.H. Jr.& Pellerin, L.A.1998. Linking history and human lives, Life course as developmental theory. In J.Z. Giele & G.H.Elder Jr. (eds.) Methods of Life Course Research: Qualitative and Quantitative Approaches, p. 264-294. Thousand Oaks, Calif.: Sage.
Galabawa, J.C. 1994. Status and future challenges of the Tanzania primary and secondary education. In Msambichaka, L.A., Moshi, H.P. & Mtatifikolo, F.P. (eds.) Development Challenges and Strategies for Tanzania. An Agenda for the 21st Century, p. 291-306. Dar es Salaam University Press.
Joutselainen, M. 1991. World Federation of the Deaf Survey on Deaf People in the Developing World. Helsinki: Offsetpiste.
Lehtomaki, E. 2000. The meaning of education from policy to practice, Including people with hearing impairment in Mozambique and Tanzania. Nordic Association for Education and Development Conference report (in print).
Lehtomaki, E. & Viniche, I. 1998. Implementacão da Educacão Inclusiva na Província de Maputo. Relatório da Consultoria do Programa de Apoio ao Sector da Educacão na Província de Maputo. (Implementation of Inclusive Education in Maputo province. Unpublished consultancy report.)
Miles, S. 1996. Engaging with the disability rights movement: The experience of community based rehabilitation in Southern Africa. Disability & Society, Vol 11, No 4, p. 501-517. Ministry of Education and Culture. 1998. Report of the Seminar for Teachers of the Deaf and Hearing Impaired, Njombe, 8.-19.6. (Unpublished report.)
Moores, D.E. 1996. Educating the Deaf, Psychology, Principles and Practices. Fourth edition. Boston: Houghton Mifflin.
Nambira, G. 1994. Educating Children with Hearing Impairment in Tanzania: Comparing Regular and Special Schools. Stockholm Institute of International Education. Studies in International and Comparative Education Series, 29.
Rutter, M. & Rutter, M. 1993. Developing Minds: Challenge and Continuity Across the Life Span. New York, Basic Books.
Schafer, M. 1999. International non-governmental organizations and third world education in 1990: A cross-national study. Sociology of Education, Vol. 72 (April), p. 69-88.
Temu, E.B. 1999. Basic Education for All: A Global Concern for Quality. The Experience from Tanzania. Paper presented at the Nordic Association for Education and Development Conference 6.5.
Vogelaar, L., Lehtomaki, E. & Simbine, S. 1995. Pesquisa sobre a Situacão de Pessoas Surdas em Mocambique. Ministério da Coordenacão da Accão Social. (Survey on Deaf People's Situation in Mozambique, Ministry of Coordination of Social Action. Unpublished research report.)
Reference:
Title: Inclusion and Deafness: Linking the Family, School and Community
Author: Lehtomaki, E
Date: 2001