Drawings
In 'Enabling Education' Issue 7 we provided an example of a drawing which summarised the issue of family involvement in inclusive education. We invited readers to send us similar drawings. Click on the links below to see the drawings that have been submitted so far.
Family action for inclusion in education
This diagram appears in EENET's book "Family Action for Inclusion in Education".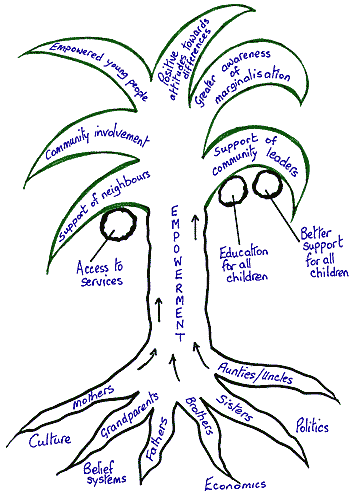 Community involvement
This drawing was created by Harry Dzadze from Sekondi School for the Deaf, PO Box 340, Sekondi, Ghana.
Harry explains:
"As most schools in the developing countries were built by the communities it can be said that the schools belong to the communities, hence the need for the various groups in the community to be actively involved so that the desired results are achieved (such as education for all children, provision of educational facilities, and awareness of the importance of education)."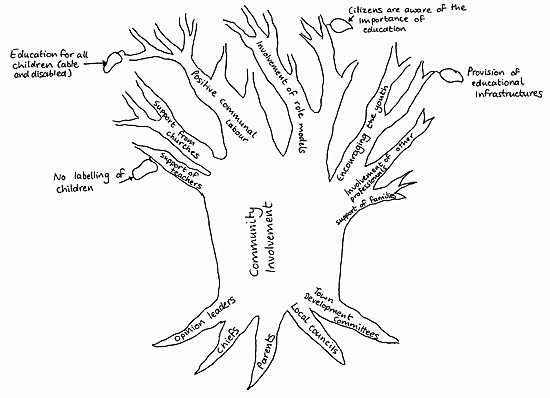 Colours of an inclusive school
This drawing was submitted by Nidhi Singal, India.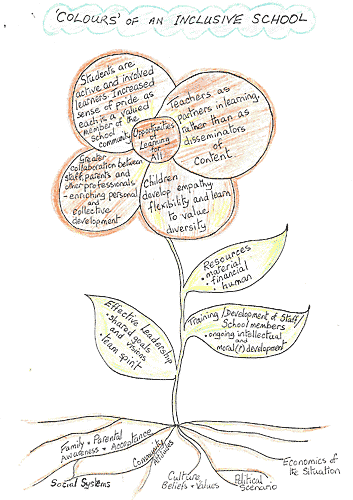 Inclusive Work
Zulu Joseph from Musakanya Basic School, Mpika, Zambia sent us this illustration. You can read more contributions from Zulu Joseph and his colleagues in EENET's publication "Researching our Experience".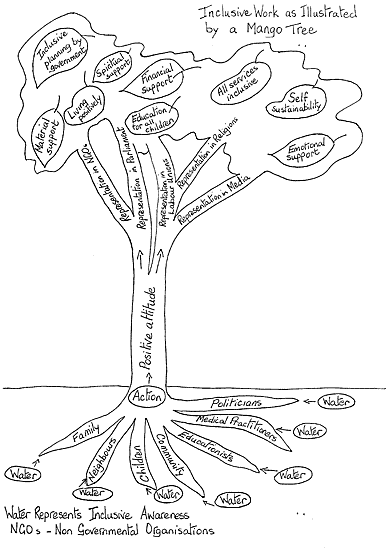 Fatal error: Uncaught Error: Call to undefined function mysql_connect() in /home3/eenet/public_html/reference.php:6 Stack trace: #0 /home3/eenet/public_html/resources/docs/drawings.php(68): require() #1 {main} thrown in /home3/eenet/public_html/reference.php on line 6