The "dot hope" effect of the net
The following article is supplied by Ability - a UK publication focusing on IT in the context of disability. It is published quarterly by the British Computer Society Disability Group in association with AbilityNet (www.abilitynet.co.uk). Enquiries to Sue Holman -
Standfirst: At a time when most of the media has been concentrating on the "dot com" effect of the net, the Childnet Awards celebrate what could be described as the "dot hope" impact the net is having on children world-wide. Stephen Carrick-Davies from Childnet International looks at the way this year's awards winners are using the internet to break down barriers of distance, disability and poverty to bring hope to others.
The internet is beginning to have a profound effect on the way young people interact in the home, classroom, and "on the street". The interactivity of the medium affords many children unprecedented opportunities to connect with others across culture, class, ability and distance. Indeed, in our experience at Childnet International we are finding that when this technology is combined with face-to-face interaction and a supportive environment, it can dramatically assist young people - perhaps disabled children in particular - in discovering new opportunities and things about themselves, as well as challenge perceptions and stereotypes. Far from the internet simply being a "window" on information - contact it is facilitating new ways of interacting with others - contact.
This "contact" was recently brought home to me in a Chinese restaurant in Barbados, West Indies, where I talked with two former street children from Honduras. This collision of cultures, language, and indeed taste (you try eating Chinese food in the tropics !) powerfully demonstrated to me just how the net can break down barriers and bring about dynamic contact, as I was to discover by talking with Junior Daniel (16 years) and Noel Murillo (15 years) through their interpreter Ann. These two young men are engaged in using the internet to help educate the world about the plight of Latin American street children.
The reason I was in Barbados with Junior and Noel, and others from all over the world, was to work on the 2000 Childnet Awards ceremony, a unique global awards programme which rewards children (and those who work with them) who are developing outstanding internet projects and activities which directly benefit other children. Meeting young "cyber pioneers" from all over the world and hearing how they were using the internet to bring hope to other children, was truly inspirational. Over the few days we were together I heard how Noel had been thrown out of his home at the age of 7 and been forced to live on the streets. Soon he became caught up in "las Mara" (street gangs) until being eventually rescued by Casa Alianza, a non-profit organisation dedicated to rehabilitating and defending street children. Casa Alianza was one of this year's award winners having developed a unique website dedicated to giving street children their own voice (see www.casa-alianza.org). Noel and Junior are among many of the young people now learning to use computers and the internet in the homes that the organisation runs. Clearly the internet is already having a big impact on their lives as the first thing both boys did on arriving at the Barbados hotel where we were all staying, was to check their email!
The awards programme is sponsored by Cable & Wireless and is run by non-profit organisation Childnet International which is working at a strategic level to make the internet a truly great place for children. See www.childnet-int.org. As well as running projects which aim to protect children and build awareness about the dangers of the internet, we at Childnet are working hard to promote the benefits of the net and improve access to children who most stand to benefit.
What was exciting about this year's winning projects was to see how children who are at risk through illness, disability, and homelessness are using the internet to positively highlight their situation and challenge others to respond. Indeed, seven out of the eleven winners were tackling issues of disability, illness and access. For example, the Epilepsy Queensland project (www.eqi.org.au/poss-intro.htm) a small non-profit organisation from Australia which has set up a website called "Little Poss Club" to teach children everywhere about the world's most common serious brain disorder. - Did you know that Possums get epilepsy? Another outstanding project has been developed by 15 year old Jason Fernandes from Mumbia in India and is called Learning Disabled Kids Support India (www.Ldkids.zeocities.com). Jason who for many years suffered from teasing and misunderstanding because of his dyslexia, has developed a resource for other children overcoming this and other learning disabilities. He says, "One of the most wonderful things that happened in my life is when Childnet touched my project and gave it a warm pat on the back." However the awards programme gives more than just encouragement. Through the sponsorship of C&W, the winners are able to meet in wonderful locations (Sydney in 1999, Barbados,2000 and next year, Washington DC) and the prize money of up to £5,000 is a significant help in develop the programmes.
One such disability project to benefit from the ongoing support of Childnet is the Deafax Trust which won an award in 1998 for their idea to develop a special international website for deaf children called Deafchild international. This project is now a reality (see www.deafchild.org) and the website, which is run by deaf and hearing people, provides chat rooms, games and other resources through which deaf and hearing children can communicate and practise their literacy skills. "Finding an incentive to encourage deaf children to read and write is a key educational issue," says Matthew James, director of Deafchild. This new resource includes an international directory of deaf schools with video conferencing facilities. Increasingly the ability to communicate effectively is key to being able to gain access to better education and employment and the internet potentially gives deaf children enormous opportunities to communicate.
Increasingly we at Childnet are seeing that building off-line communities around on-line projects, is vital. Indeed, for the "dot hope" effect to be truly realised you have to see the impact that the technology (and the contact which the internet facilitates), is having on people first hand. For example, many winners over the years have used their prize money not on their own projects but have given it away to partner organisations in other countries who are less fortunate than themselves. One of the winners from the Sydney awards in 1999 best summed up this effect when he wrote in his evaluation form "We have learnt through the Childnet awards that human relationships are more important than technology."
David Banes, who until recently was working at the Meldreth Manor School here in the UK, was one of this year's Childnet winners. David now works for AbilityNet and says "Everyone should enter the Childnet Awards. The range of sites from the highly complex to the simple but well presented, suggests that everyone is judged on their merits. Many disabled children (and those organisations working with them) are beginning to develop excellent web-based projects and this awards programme really could be an important resource for disabled people wanting to use the internet to break down barriers. We need to be learning from each other not only in how to exploit the technology to assist disabled people, but equally importantly, how to use the internet more creatively so as to better communicate and educate others of the skills, abilities and enormous contribution disabled people can make."
So does this "dot hope" effect of the net have a future ? Will those who are rewarded for exploiting the commercial power of the net use their influence and start to direct some of their profits to those who are wanting to use the medium for good and use it to build sustainable change? We at Childnet are already hard at work on next year's awards programme and are seeking partners so as to strengthen our work to make the internet a great place for children. Increasingly users will want to see the benefits of the internet not simply in terms of how easily they buy on line, but how it is changing society for good.
Full details about the Childnet Awards including links to all those projects mentioned is available at www.childnet-int.org/awards.
The 2001 Childnet Awards programme has recently opened and if you have a great idea or are developing an innovative project using the internet why not enter. You can contact StephenCarick-Davies at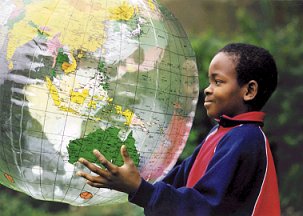 Tomi Adeloye is a deaf child who is now using the internet to aid him in his study and recreation and to meet other children. Childnet has worked with The Deafax Trust (a previous Childnet Award winner) to establish a special new nternational website for deaf and hearing children see www.deafchild.org. Photo: SC-D copyright Childnet 2000.
This article was supplied by ChildNet

Fatal error: Uncaught Error: Call to undefined function mysql_connect() in /home3/eenet/public_html/reference.php:6 Stack trace: #0 /home3/eenet/public_html/resources/docs/dothope.php(69): require() #1 {main} thrown in /home3/eenet/public_html/reference.php on line 6