Diagrams
In 'Enabling Education' Issue 7 we published a diagram entitled 'Whole school improvement for all'. We suggested to readers that the diagram was incomplete, that some elements of successful 'whole school improvement' were probably missing. We therefore invited readers to fill the gaps or to design their own diagram to illustrate the key elements of inclusive education, whole school improvement, etc. Click on the links below to see the diagrams that were received.
Whole School Improvement
EENET's diagram on 'whole school improvement' is taken from the Save the Children UK/EENET poster 'Schools for All' (pdf 110k)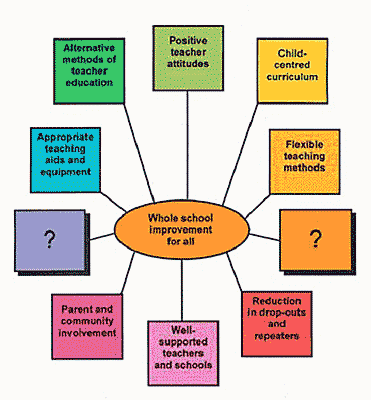 Teacher education and education for all
This diagram was created by Harry Dzadze from Sekondi School for the Deaf, PO Box 340, Sekondi, Ghana.
Harry explains:
"The factors in each box would help towards the realisation of our objective (inclusive education), if governments and stakeholders would use these factors in planning strategies for the education of their citizens."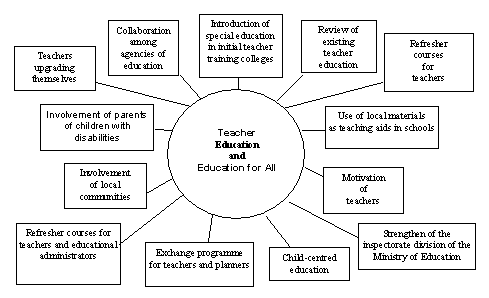 The scope of inclusive education
This diagram was sent by the CBR Network (South Asia). It illustrates that inclusive education means inclusion for all groups in society.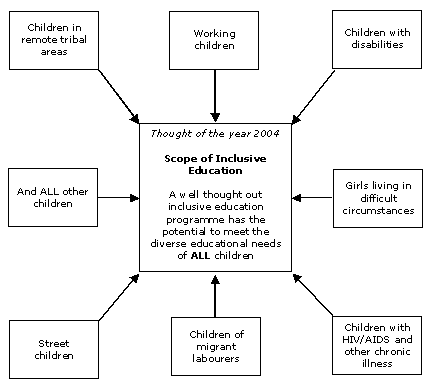 Fatal error: Uncaught Error: Call to undefined function mysql_connect() in /home3/eenet/public_html/reference.php:6 Stack trace: #0 /home3/eenet/public_html/resources/docs/diagrams.php(61): require() #1 {main} thrown in /home3/eenet/public_html/reference.php on line 6