Enabling Inclusive Education: Challenges and Dilemmas
Susie Miles, Enabling Education Network (EENET)
Paper presented at: A Symposium on Development Policy entitled "Children with Disabilities and the Convention on the Rights of the Child" Gustav Stresemann Institute, Bonn, Germany October 27-29, 2000
Introduction
I would like to start by quoting to you from the recent International Special Education Congress (ISEC), entitled 'Including the Excluded', which took place in July this year in my home town of Manchester.
"Inclusion is about genuine relationships."
"Inclusion is about the intentional building of relationships where difference is welcomed and all benefit."
The first statement was made by an 'ordinary' village school teacher from Zambia. His colleagues had asked him why he, a non-specialist, was attending a 'special education' congress. He confessed that he hadn't been too sure himself. But by the end of the congress he was confident that his experience of implementing inclusive education was extremely relevant, possibly more relevant than that of the 'special educators' present at the congress.
The second statement was made by a disability equality trainer based in London, UK. He is a non-specialist teacher who campaigns nationally for inclusive education and is a disabled person.
Although these two speakers came from two very different cultural contexts with different levels of resourcing, they were in complete agreement about the meaning of inclusion.
I will argue in this paper that: unless diversity is welcomed, and relationships are consciously nurtured, there will be little change in the educational experience of disabled and other marginalised children. Of course, policy and legislative change is desirable, specialist skills can be useful and a greater financial investment in schools would be excellent, but good working relationships are critical.
I have mapped out a journey on the long road towards inclusion. This journey begins with the Salamanca Statement of 1994 and definitions of inclusive education, and takes us through Community Based Rehabilitation and units attached to mainstream schools, to a fully inclusive approach to education from policy through to practice. I will finish with an overview of the Enabling Education Network and its role in this journey.
Before I embark upon this journey I'd like to say a few words about terminology and the cross-cutting themes of this symposium. I will use the term disabled children, rather than children with disabilities, as this is the way disabled adults in the UK prefer to be described (Finkelstein, 1992). By 'disabled children' I mean all children who have some sort of physical, sensory, behavioural difference or learning difficulty which causes them to be excluded, or discriminated against, in mainstream society. When I refer specifically to 'children with mental retardation', I will use the term 'children with learning disabilities'.
In preparing this paper I struggled to identify examples of inclusive education which focus particularly on disabled girls, or on children with learning difficulties. Although I realise that the themes have been chosen because these two groups are arguably the most overlooked and excluded - a form of exclusion within exclusion - I believe that that the new generation of inclusive education programmes are highly sensitive to both these issues, precisely because of the mistakes of the past.
The Salamanca Statement
Any discussion about the definition of inclusive education needs to use the Salamanca Statement and Framework for Action (UNESCO, 1994) as a reference point. The Statement re-affirms the right to education of every individual, as enshrined in the 1948 Universal Declaration of Human Rights, and renews the pledge made by the world community at the 1990 World Conference on Education for All to ensure that right for all, regardless of individual differences. The Statement also mentions the 1993 UN Standard Rules on the Equalisation of Opportunities which states that the education of disabled children should be an integral part of the education system. There is, however, no reference to the Convention on the Rights of the Child.
Every child has a fundamental right to education, and must be given the opportunity to achieve and maintain an acceptable level of learning,
Every child has unique characteristics, interests, abilities and learning needs,
Education systems should be designed and educational programmes implemented to take into account the wide diversity of these characteristics and needs,
Those who have special educational needs must have access to regular schools which should accommodate them within a child-centred pedagogy capable of meeting these needs,
Regular schools with this inclusive orientation are the most effective means of combating discriminatory attitudes, creating welcoming communities, building an inclusive society and achieving education for all; moreover, they provide an effective education to the majority of children and improve the efficiency and ultimately the cost-effectiveness of the entire education system.
The definition of inclusion is clearly broader than just disability, as the Framework spells out the many different categories of children who may be excluded from education.
The guiding principle that informs this Framework is that: Schools should accommodate all children regardless of their physical, intellectual, social and emotional, linguistic or other conditions. This should include disabled and gifted children, street and working children, children from remote and nomadic populations, children from linguistic, ethnic or religious minorities and children from other disadvantaged or marginalised areas or groups.
A big omission here is the lack of any reference to gender. However point 55 of the Framework discusses the importance of girls' education:
Girls with disabilities are doubly disadvantaged. A special effort is required to provide training and education for girls with special educational needs. In addition to gaining access to school, girls with disabilities should have access to information and guidance as well as to models which could help them to make realistic choices and preparation for their future role as adult women.
Finally, here is a quote from the Framework which acknowledges the differences in learning needs and speeds which are evident in all classrooms all over the world. This is particularly relevant to children with learning difficulties who need to learn at a slower pace.
Special needs education…. assumes that human differences are normal and that learning must accordingly be adapted to the needs of the child rather than the child fitted to pre-ordained assumptions regarding the pace and nature of the learning process.
This quote implies that there is an important difference between integration and inclusion. Special, integrated and inclusive are often used interchangeably, as if they all mean the same thing. In some languages it is not always possible to make the distinction between integration and inclusion. However we believe that an understanding of the distinction between the two terms is essential to the inclusive process.
The following three slides demonstrate a change in thinking about disability and difference from special, through integrated, to inclusive education. (See Sue Stubbs' diagrams at the end of this document.)
The next two slides are taken from the Agra seminar report, "Towards Inclusion: Making a Difference". Integrated education essentially follows the medical model of disability which sees the child as a problem and demands that the child is changed, or rehabilitated, to fit the system.
Inclusive education is more in tune with the social model of disability which sees the system as the problem. The school and the education system as a whole is enabled to change in order to meet the individual needs of all learners.
I will further simplify this by saying that integrated education is about 'going to school' whereas inclusive education is about 'participating in school'. However it is important not to become too school-focused and remember that education is much broader than schooling. Inclusive education should incorporate a range of strategies within a community which ensure that all children have equal access to education. This education should equip them for life as part of that community and help develop their potential. For a child with severe learning difficulties this may mean education within the home and family which focuses on self-help skills together with support from the community in the long-term care of the child. For a deaf child it may mean having access to deaf adults and developing a local sign language in order to be included in school and society on an equal basis. Accessibility and participation are therefore critical issues in inclusive education.
I will now give some examples from the work of Save the Children-UK in Kenya, Swaziland, Lesotho and Thailand, which will serve to illustrate the journey towards inclusion, through Community Based Rehabilitation (CBR) and specialist units attached to schools. I have drawn heavily upon a paper written by Sue Stubbs, Save the Children's former Disability Adviser (Stubbs, 1997), and my own experience as Save the Children's Regional Disability Adviser for southern Africa. I will begin with a focus on the role of CBR in promoting inclusion. The Framework for Action states that CBR should be developed as part of a global strategy for supporting cost-effective education for disabled people.
Community Based Rehabilitation (CBR)
Most CBR programmes aim to integrate disabled children into their local school. CBR workers provide an essential link between the child and their family in the home setting and the child, their peers and their teachers in the school setting. They can also introduce disabled children to disabled adults and their organisations. The children's integration in their local school is therefore linked to a wider movement to promote an inclusive society.
The Kibwezi CBR programme in Kenya was one of the first in Africa to promote the educational integration of disabled children in the early 1980s. The clinic at Kibwezi, where the CBR programme is based, is situated in an impoverished and drought-stricken rural area. Disability work in this context is primarily concerned with addressing the underlying causes of poverty, and its inextricable link with disability. Education is therefore central to this approach. The CBR workers began by raising awareness in the community of the need for disabled children to be educated and by bringing parents together in support groups to discuss the issue further. Child-to-Child methodology was used to prepare the schools for the integration of disabled children and to facilitate communication and understanding between disabled and non-disabled children. Teachers incorporated some of the information about disability into their curriculum and music and drama were used to reinforce the message.
Following the example of Kibwezi, integrated education has been promoted by CBR programmes in other southern and east African countries, in Tanzania, Swaziland, Lesotho, South Africa and Mozambique. Save the Children-UK has supported these programmes for more than a decade.
One of the most successful strategies in supporting this work was the funding of exchange visits and study tours to enable programme staff to learn from each other's experience and improve their practice. One of the reasons often given for disabled children not attending school is the distance from home and the lack of mobility appliances. CBR workers have been particularly good at addressing mobility problems. Solutions have ranged from donkeys, wheelbarrows, lifts on bicycles and being carried on another child's back to a whole community in Lesotho, which rebuilt a road for a child with brittle bone disease. The Swaziland CBR programme has encouraged communities to build simple ramps in schools for children using wheelchairs and accessible play facilities. There is no doubt that this kind of community involvement in enabling individual children to attend school has a major impact on the attitudes of the whole community towards disability. This is something that the teachers would not be able to achieve alone.
Similarly, children with learning difficulties, who may previously have been wandering about badly dressed and being ridiculed, have been transformed once they have the status of attending school. Community attitudes have improved as a result and, in turn, the children have become more socially integrated - the ultimate goal of a CBR programme.
In Lesotho, when the CBR programme consulted the community about the needs of their disabled members, education and employment were identified as their greatest needs. In order to prepare the ground for educational integration, Child-to-Child methodology was used to challenge the negative attitudes of the community and to educate the children about the causes of disability. The school children were asked to conduct a survey to find out the different seasonal causes of disability. They discovered that in summer, the rainy season, children become ill and often disabled through diarrhoeal disease and in the winter through burns. The children had not previously questioned their parents' instructions not to play with disabled children because of their belief that disability was contagious. However as they conducted their survey and met disabled children who did not go to school, they disobeyed their parents and began to play with them and eventually brought them to school. In one case the children secretly tutored a child at home and then asked their teacher to assess her. She had learned so much that she was able to start school in the fourth year of primary school.
These programmes have undoubtedly improved the lives of individual children and enabled them to be educated. However, ongoing evaluation of this work has revealed several limitations to the CBR approach to integrated education:
CBR workers rarely have a background in education and therefore they find it difficult to support teachers;
CBR workers and teachers are unlikely to know very much about 'inclusive methodology'. Traditional methods of rote learning need to be changed to more inclusive methods, but there are very few resources or training opportunities to help them to do this;
Children are integrated one-by-one, often with a great deal of support from a CBR worker, so there is a very limited impact on the school, or school system, as a whole;
The success of the integration is too dependent on the good will of the individual teacher and head teacher;
Disabled children tend to miss out on early stimulation and educational provision because they are identified late. The optimum time for developing the potential of children with sensory and intellectual impairments is therefore missed;
The emphasis is still on changing the child, rather than changing the system because the underlying philosophy of the school and the school system has not been enabled to change.
CBR is clearly an essential strategy for promoting inclusive education, but it is unlikely to be able to promote an inclusive system of education. It does, of course, offer a sustainable option, where educational resources are scarce, since it does not require any specialist input or extra resources. Ideally, CBR would form part of a comprehensive educational strategy aimed at making education more inclusive. Where schools have accepted disabled children through a CBR approach, and have begun to respond more effectively to those already in the class, Save the Children has learnt that:
Teachers feel a sense of pride and reward when a disabled child succeeds in learning, or learns more socially acceptable behaviour;
Teachers begin to take more responsibility for all children;
Children have no difficulty in making friends with, and offering support to, disabled children. This kind of social responsibility is encouraged by parents and teachers;
CBR workers are able to offer essential back-up to families in order to reinforce the benefits of integration;
The successful integration of disabled children in their local school reinforces the awareness raising campaigns which are central to the goals of CBR;
Parents become more motivated to support their children's educational development.
The Kibwezi programme continues to be highly successful in placing disabled children in their local schools. However their success has been hampered by a failure of the education system as a whole in Kenya to embrace the principles of inclusion. At a local level relations between the CBR programme and the teachers in the local schools are good, but the Ministry of Education's policy of placing disabled children in special units has sometimes undermined the work in Kibwezi.
Small units
Placing children in specialist units attached to mainstream schools is a way of providing specialist expertise nearer to home. In some ways it is a half-way house between segregated provision and full inclusion. Units are a Western model, however, and their effectiveness, like that of special schools, is being questioned in the West. The current term being used in the UK is 'resource base' or 'resourced provision'. The emphasis is therefore on the resources allocated to the school, rather than the physical structure of a separate unit.
Save the Children set up a special class for children with learning difficulties attached to a primary school in Thailand in 1989. This was in response to the needs of parents whose children were on a waiting list for a day care centre. The aim was to gradually integrate the children, beginning with lunch and play time, sports, music and arts, and then academic lessons. A specially trained teacher supervised the class. The project achieved some success in integrating the children and was extended to a second school (Holdsworth and Kay, 1996). However many drawbacks were identified:
When the mainstream teachers experienced any problems with the children with learning difficulties they sent the children back to the special class;
Any children who were experiencing difficulties, who hadn't previously been identified as such, or who had behaviour problems, were sometimes sent to the special class;
The supportive head teacher left and the children with learning difficulties were excluded from the school roll;
The existence of a special class and special teacher reinforced the idea that mainstream teachers did not have the responsibility or skills to teach these so-called 'special' children;
The success of integration into certain classes depended upon the goodwill and skills of the individual teacher. There was no whole-school policy;
The mainstream methodology and curriculum continued to be teacher-focused and very rigid, and did not respond to the individual needs of children. Learning problems were the fault of the child, not the teacher;
The unit used a high level of resources: specialist teachers and a separate space for a small number of children. Yet the mainstream classes were overcrowded and under-resourced. This was not a replicable model.
Towards inclusive education
The examples I have given so far of integrated education through CBR, and of small units attached to mainstream schools, have highlighted the limitations of the 'individual model of disability'. The overheads I showed earlier about the difference between integrated and inclusive education also highlighted the limitations of this model. Inclusive education is based on the social model of disability and emphasises the way in which people who have impairments are dis-abled by barriers in society which exclude them from participating in that society. I will expand on this in the workshop entitled 'Overcoming Resource Barriers'. Sadly it is unlikely that all barriers to participation will ever be removed. Discrimination and exclusion are part of the human condition. In moving towards inclusion, however, we are making a conscious effort to identify exclusionary forces in schools and in society and to devise strategies to combat these forces.
I will now give you examples from Laos, Lesotho and Zambia of three very different approaches to inclusive education. The examples will demonstrate the fact that the journey to inclusion varies according to culture and context. Although I will identify some common strategies, there will also be some important differences.
In Laos and Lesotho the programme is referred to as the integrated education programme, as they both pre-date the Salamanca Conference of 1994, when we started to use the term inclusive education. Their philosophy from the beginning has, however, been fully inclusive.
1. Inclusion through school improvement: Laos
Save the Children was asked by the government of the Lao People's Democratic Republic in 1989 to assist with pre- and in-service teacher training as part of a large-scale school improvement programme. Laos has a population of 4.5 million people consisting of a wide range of ethnic groups. Although massive improvement had been made in expanding access to schools following the 1975 revolution, quality was still an issue of concern. In order to improve teacher effectiveness in primary schools there was a strong focus on pre-service training and classroom methodology. Research in classrooms revealed that very little attention was paid to individual learning needs. A discussion of children's learning needs and appropriate strategies to respond to them led naturally to the integrated education programme in primary schools and later in the kindergarten sector (Holdsworth & Thepphavongsa,1996). The strategies used were as follows:
Key officials were sent on study tours to other countries in south-east Asia to see integrated education in practice;
A replicable pilot primary school and a kindergarten were set up;
The UNESCO Resource Pack was used as a basis for the training of teachers;
Major changes were made to the teacher-training curriculum;
Classroom methodology became child, rather than teacher-centred;
School visits by the national implementation team supplemented the initial teacher training by relating it to real children, real problems and real solutions.
An SCF adviser worked intensively with teacher trainers for two years to develop a child-centred approach in the demonstration kindergarten. Regular seminars followed classroom observation and practical teaching sessions. The teacher trainers observed each other's teaching and learned from each other and developed a teacher training manual. A library and a toy and teaching aids workshop was set up.
A philosophy of 'learning through play' was introduced in the kindergartens and children's active participation was encouraged. Western literature on pre-school education presumes a level of resourcing not possible in a poor country, such as Laos. However the teachers draw upon the rich Lao culture of stories, poems, songs and dances to supplement the kindergarten curriculum and use locally available materials such as sand, leaves and coconut shells.
These changes, which benefitted all children, prepared the way for the inclusion of disabled children. The integrated education programme began in one pilot primary school in 1993 and by 1996 had been extended to 23 primary schools and 11 pre-schools in four provinces.
The fact that Laos does not have any special schools of any kind was arguably an enormous advantage for the development of an inclusive approach. Any specialist expertise that was required had to be developed in the classroom teachers.
Some of the staff involved in this programme argue that the transformation of the learning environment is an essential pre-requisite for inclusive education. While others would say that school improvement may be the result of the introduction of integrated education. Whichever route is taken, school improvement must take place (EENET, 1997).
2. Building on an integrated education policy: Lesotho
The South African and Ugandan policies on inclusive education, developed in the 1990s, are usually the most quoted examples of good policy. Uganda has been addressing the educational needs of disabled children as part of universal primary education since 1996 (Ndeezi, 2000). They have made it financially possible for families to send their disabled children to school. South Africa's dynamic post-apartheid policies on education have ensured that the education of disabled children is not treated as a separate, or special, issue (NCSNET & NCESS, 1997).
A progressive policy on the integration of disabled children into primary schools had already been developed in 1987 in Lesotho, based on a report by a North American consultant. This provided the disabled people's organisation with a powerful tool with which to lobby for access to education for the 99% of disabled children who were not in school. Save the Children worked closely with all the key players to build relationships between them and to prepare the ground for inclusive education.
Lesotho is a small country of 2 million people, surrounded completely by South Africa, and economically dependent upon its giant neighbour. The disabled people's organisations in both countries likened their struggle for equality of opportunity with the anti-apartheid liberation struggle. The focus on rights, rather than charity, has been an extremely important influence on the development of an inclusive education system in Lesotho.
The inclusive education programme began with a six-month national feasibility study involving over 300 primary schools (Khatleli et al, 1995). This involved lengthy discussions with teachers about the national policy and the identification of children with learning needs already in the schools. The study revealed that 17% of existing children had some sort of impairment which affected their learning. The programme therefore began by tackling the existing problems, rather than introducing new children. In the long-term this has helped to reduce the very high drop-out and repeater rates in the pilot schools.
The main strategies were as follows:
Awareness-raising at all levels: administrators, teachers, parents, disabled people's organisations, the community, ministry of health personnel, and the setting up of a cross-sectoral committee comprising all the key players;
The formation of a national parents' association - the Lesotho Society of Mentally Handicapped Persons (LSMHP);
An initial three-week in-service training course in the school holidays for all teachers from the ten pilot schools, 77 teachers altogether;
Follow-up training, both centrally and in schools;
Production of curriculum materials for teacher training giving basic information about disabled children;
Minimal use of additional resources in order to promote sustainability.
The training provided teachers with the skills to assess and to teach children with all types of impairment. The integration of disabled children led to school improvement - the opposite way round from the Laos example, which began with school improvement. Class sizes in Lesotho are large, with ratios up to 1 teacher to 100 children, but teachers still found ways of meeting each child's individual educational needs. They did this using the following strategies:
Peer support - seating disabled children next to pupils who could help them;
Seating - sitting children near the front of the class;
Adapting the curriculum;
Group work;
Encouraging sibling support at home;
Promoting positive attitudes.
The teachers received support from the SCF adviser and her counterpart who carried out on-the-spot training in response to particular problems faced by the teachers. This method of training is also a very successful strategy used in Laos. The team in Lesotho decided to start with the teachers in the ten pilot schools, one in each of Lesotho's ten districts, so that each district would have its model school. All the teachers were trained to avoid any one teacher being seen as a 'specialist'. Specialising in a particular impairment was also avoided for the same reason, and to avoid the problems already identified with small units. A component on inclusion has been introduced into the pre- and in-service teacher training curriculum at the national teacher training college. The teachers in the pilot schools are a valuable resource in the pre-service training programme as they help supervise student placements. The parents' organisation provides advice to the teacher trainers and gives talks to the students.
Expansion from the pilot schools has been slow and it has been estimated that it will be another ten years before the programme has reached all schools. However the national parents' organisation has helped to speed up the pace of expansion by actively promoting inclusion in schools. I will talk more about this in the workshop session this afternoon, but I'd like to share with you what the Salamanca Statement and the United Nations Standard Rules on the Equalisation of Opportunities says about parents' involvement in education.
We call upon all governments and urge them to encourage and facilitate the participation of parents, communities and organisations of persons with disabilities in the planning and decision making processes concerning provision for special educational needs.
Salamanca Statement, 1994
Parent groups and organisations of persons with disabilities should be involved in the education process at all levels
United Nations Standard Rules, 1994
The example of Lesotho is unusual because the Ministry of Education actively encouraged the formation of a parents' organisation precisely because it believed that teachers can not, and should not, implement inclusive education without family involvement. In most other countries parents have had to fight to have their voices heard and have influenced the development of inclusion through their role as lobbyists, rather than as partners.
3. Inclusion through democracy and human rights: a community-based approach: Zambia
I began this journey towards inclusion with examples from CBR. Although there are undoubtedly enormous benefits to integration through CBR, I pointed out the limitations of a purely community based approach which focuses on the needs of individual children and therefore fails to change the system as a whole. I am now returning to a community-based initiative which used local resources to promote inclusive education, and which, I believe, has the potential to influence the national system of education. Not all teachers working at village level are prepared to wait until their government decides to overhaul its teacher training methods, or for it to adopt a pro-Salamanca policy. In this third example, I am returning to the village school teacher who made the bold statement at the recent international conference that inclusion is about genuine relationships.
The quality of education has deteriorated in Zambia and society as a whole is concerned about this trend (Mumba, 1996). Teacher training colleges emphasise the importance of the relationship between teachers and pupils, but innovative ideas discussed during training are rarely put into practice. Most experienced teachers, who work in isolation from their fellow teachers, continue to teach in the same way they did when they first qualified decades before. Undemocratic and authoritarian teaching practices prevent innovation and African culture reinforces authoritarian relationships between adults and children.
Teachers in Kabale primary school, in Mpika, 600 kilometres from the capital, have radically changed their style of teaching. This has paved the way incidentally for the inclusion of children with learning difficulties. When Kabale school opened in 1966 it had 40 children and one teacher. Today it has almost 2000 children and 40 teachers. This is due to increased job opportunities in the area. The school is a resource centre for the Child-to-Child programme. Staff are encouraged by the school administration to promote children's participation in their own learning and the equal participation of pupils, parents and teachers in education. The school teacher I quoted at the beginning is the school-based Child-to-Child coordinator and a member of the district training team.
The strategies which have been used to democratise classroom practice are as follows:
Introducing children to their rights and responsibilities;
Co-operative group learning and problem-solving;
Pupils are encouraged to question traditional sources of knowledge;
Evaluation of the learning process by both pupils and teachers;
Pupils are involved in decision-making;
A strong emphasis on gender equality;
Parents participate in their children's learning.
The combination of these approaches has encouraged ownership of the school by the community - an essential part of the inclusive process as inclusive classrooms are unlikely to work in isolation from the community.
As all these changes were being introduced, the Ministry of Education, with donor support, arranged for a small unit for children with learning disabilities to be built at Kabale school, without any prior consultation with the staff. They specified that there would be a specially qualified teacher who would be able to teach five children in the unit. Meanwhile the Child-to-Child programme had identified 30 children with learning disabilities who had been excluded from school. There followed a difficult period of negotiation, but the school succeeded in taking in all 30 children. The co-operative methods of teaching and learning and the child-to-child methodology enabled the children with learning disabilities to be included with their peers. Gradually the unit has been transformed into a resource centre which is used by all the teachers. The ideas developed at Kabale have been shared with 17 schools in the surrounding district and regular meetings are held between the teachers to share experiences. Kabale's success in raising academic standards, attendance rates and in including children with learning disabilities has been studied by several universities, both in Zambia and in the UK and USA. It is likely that the lessons learnt about democracy and inclusion will trickle-up and influence change at policy level.
I will summarise the lessons learnt in Mpika and in the programmes supported by Save the Children in the following checklist (Stubbs, 1997):
A comprehensive situation analysis should be carried out prior to implementation;
Local resources and initiatives should be identified and built on;
Success does not depend upon a large budget or small class sizes, but on the careful and planned use of existing resources;
A pilot school should be chosen which will provide a replicable model;
Training should be on-going, provided in short courses and should preferably take place in schools;
School improvement is necessary, not optional;
Programmes should aim to benefit all children, not only disabled children;
Specialist support should be located at district and national levels, not within schools;
A whole school approach is essential and good leadership is required;
The pace of development should be slow to enable those involved to feel comfortable with the changes;
Ownership should be shared between schools, families and communities.
Creating conversations
Finally I will now turn to one of the mechanisms through which experiences on the journey to inclusive education can be shared. Since the development of genuine relationships is so crucial to the success of inclusive education, it is essential that we talk to each other and share our experiences, beyond those of the project we are directly involved in. It was with this need in mind, that the Enabling Education Network, or EENET was set up in 1997 (Miles, 1999).
EENET is an information-sharing network which supports and promotes the inclusion of marginalised groups in education worldwide.
EENET is also a catalyst for the development of inclusive practice and a clearing house for information which promotes inclusion.
We see EENET as a post-Salamanca initiative which seeks to build upon the Framework for Action by disseminating easy-to-read information about how inclusive education is being implemented. We are particularly keen to demonstrate the value of small, community-based projects which promote inclusion in very difficult circumstances, despite the apparent failure of so many international efforts to improve education on a large scale.
Enabling inclusion
The word inclusion was deliberately omitted from EENET's title. Enabling, we hope, is a broader concept, and may have a longer life than the term 'inclusion'. By avoiding inclusion in the title, we also hoped to encourage a more comprehensive vision and understanding of inclusive education, beyond that associated with disability and so-called 'special needs'. At the same time, however, the word enabling provides an important contrast to the word disabling. Disabling educational environments affect all children, not only those who are identified as having impairments.
A dictionary definition of 'enable' is to authorise, empower, supply with the means to do." To 'disable' is "to incapacitate from doing, deprive of power."
Enablement and empowerment are therefore closely linked. Education should be empowering to all children, but so often isn't. EENET is both promoting enabling, rather than disabling, education, and enabling inclusive education to develop by providing easy-to-read and relevant information. Information is power. And access to information is empowering.
As you can see, we have spent a great deal of time contemplating the language and concepts involved in promoting inclusion. This is a reflection of lessons learnt from disability equality training and from the politics of development. Choosing the most appropriate words to describe people who have impairments, and being sensitive about the way we portray countries with few material resources, are similar and related challenges. Since information is power, it is essential that each word is chosen carefully and with respect. Respect for difference and diversity is at the heart of inclusive education.
I would like to share with you EENET's underlying values and principles, as they represent many hours of discussion and many years of practice.
EENET:
believes in the equal rights and dignity of all children;
prioritises the needs of countries which have limited access to basic information and resources;
recognises that education is much broader than schooling;
acknowledges diversity across cultures and believes that inclusive education should respond to this diversity;
seeks to develop partnerships in all parts of the world.
In conducting its work EENET:
adheres to the principles of the Salamanca Statement;
believes that access to education is a fundamental right;
recognises the intrinsic value of indigenous forms of education.
EENET is committed to:
encouraging the effective participation of key stakeholders in inclusive education;
engaging with the difficulties caused by the global imbalance of power;
encouraging a critical and discerning response to all information and materials circulated.
EENET's definition of inclusive education was developed at the International Disability and Development Consortium (IDDC) seminar on inclusive education which was held in Agra, India, in 1998 (EENET, 1998). It has since been inserted, almost word-for-word, into the South African government's draft White Paper on special needs education in March this year.
Inclusive education:
acknowledges that all children can learn;
acknowledges and respects differences in children: age, gender, ethnicity, language, disability, HIV and TB status etc.;
enables education structures, systems and methodologies to meet the needs of all children;
is part of a wider strategy to promote an inclusive society;
is a dynamic process which is constantly evolving;
need not be restricted by large class sizes or a shortage of material resources.
EENET is aware, however, of the need to maintain a balance between:
working towards better education for all children, and
recognising the very real life challenges which face severely disabled children.
Individual differences should be recognised and celebrated as part of the inclusion process. Inclusion does not, and should not, mean assimilation. One of the criticisms of the integration of disabled children in mainstream schools is that they are often excluded within the integrated setting, either because too much, or too little, attention is paid to their individual needs.
All children need positive role models. Positive adult role models are essential for the development of self-esteem and self-worth in children. Many disabled children, however, grow up never having met a disabled adult. Some fear that they will never live into adulthood or that their impairment will vanish when they become an adult. Growing up as a disabled child is therefore arguably more isolating than growing up as a girl, for example, or as part of a minority ethnic group. This is because most disabled children are born to non-disabled adults, and most disabled adults give birth to non-disabled children. Disabled children do not therefore naturally come into contact with disabled adults, or necessarily with other disabled children, and this needs to be addressed as part of the inclusion process. The promotion of a disabled identity within an inclusive setting is one of the many challenges, and dilemmas, of inclusion.
In their article 'Developing New Services', Vic Finkelstein and Ossie Stuart (1996) identify the vicious circle of dependence and over-protection in which disabled children are often trapped. This is essentially what inclusive education aims to prevent. "Both professionals and parents all too often, and unthinkingly, collaborate in protecting disabled children from risk-taking and personal responsibility. A consequence is that disabled children can grow into adulthood poorly equipped with the social skills necessary to form meaningful relationships, to compete for jobs, and to sustain their own independent households. This completes the 'vicious circle' - disabled people need to be protected because they lack the social skills for running their own lives."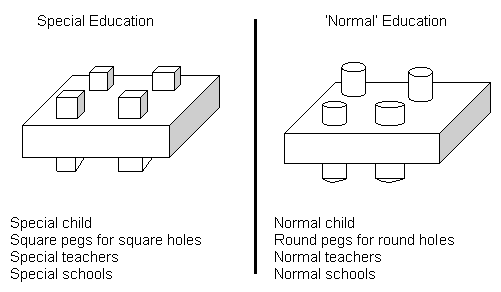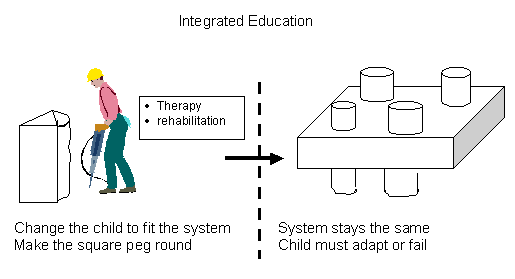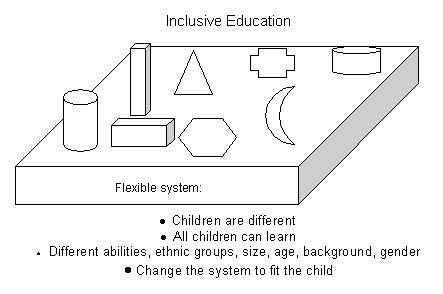 References
EENET (1997) 'Focus on Teacher Education' in Enabling Education: Issue 2 Manchester: EENET
EENET (1998) Inclusive education: Making a difference A report of an International Disability and Development Consortium seminar, Agra.
Finkelstein, V (1992) Issues in the Terminology of Disability: A synposis. An edited version of a paper submitted to the Open University Advisory Committee on Students with Disabilities Milton Keynes:Open University
Finkelstein, V & Stuart, O (1996) 'Developing New Services' in Hales, G (ed), Beyond Disability: Towards an Enabling Society London: Sage
Holdsworth, J & Kay, J (ed) (1996) Towards Inclusion: SCF-UK's Experience in Integrated Education London: Save the Children
Holdsworth, J & Thepphavongsa, P (1997) 'Experiences in Provision for Children with Disabilities using the Kindergarten Sector' in First Steps Paris:UNESCO
Khatleli, P, Mariga, L, Phachaka, L, Stubbs, S (1995) 'Schools for All: National Planning in Lesotho' in O'Toole, B & McConkey, R (ed) Innovations in Developing Countries for People with Disabilities Chorley: Lisieux Hall Publications
Miles, S (1999) 'Creating Conversations: The Evolution of the Enabling Education Network' in Stone, E (ed) Disability and Development: learning from action and research on disability in the majority world. Leeds:The Disability Press
Mumba, P (1996) Democratisation of Primary Classrooms in Zambia: A case study of its implementation in a rural primary school in Mpika
National Commission on Special Needs in Education and Training (NCSNET) & National Committee on Education Support Services (NCESS) (1997) Quality Education for All: Overcoming Barriers to Development Pretoria: Department of Education
Ndeezi, A (2000) Focus on Policy: Universal Primary Education in Uganda in Enabling Education, Issue 4
Stubbs, S (1996) The Lesotho National Integrated Education Programme: A case study on Implementation, University of Cambridge, Masters Degree Thesis
Stubbs, S (1997) Towards inclusive education: the global experience of Save the Children UK Paper presented to the 2nd Ibero-American Special Education Congress, London: Save the Children
UNESCO (1994) The Salamanca Statement and Framework for Action on Special Needs Education Paris: UNESCO

Fatal error: Uncaught Error: Call to undefined function mysql_connect() in /home3/eenet/public_html/reference.php:6 Stack trace: #0 /home3/eenet/public_html/resources/docs/bonn_2.php(275): require() #1 {main} thrown in /home3/eenet/public_html/reference.php on line 6