Nigeria
Girl Child Empowerment Nigeria (GCEN)
Introducing GCEN
GCEN is a non-governmental organisation which aims to help girls and young women to realise their potential, develop skills and achieve empowerment, and to encourage them to take up leadership positions.
We focus particularly on girls and young women who have become mothers at an early age. These girls are frequently denied their rights to an education and to other social support mechanisms. They face increased poverty and health risks (for themselves and their children) and are often forced to engage in risk-taking behaviour to survive. GCEN strives to help such girls to participate in social, educational, health, political and economic activities, to the benefit of themselves and the wider society. We work through partnerships, networking, lesson-sharing, participatory development and institutional support to reduce the poverty and dependence of young women and their children.
Articles and Documents from CGEN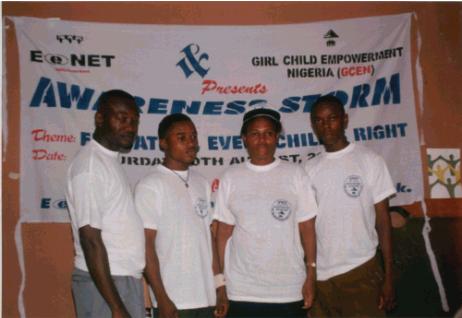 GCEN team, from left: Emelike Ikwegbulam,
Aniekan Ekpan, Nene Azubuko, Ubon Uka
GCEN and inclusive education networking
GCEN has begun, through its partnership with EENET, to develop a focus on inclusive education, promoting children's rights to education and focusing not just on inclusion for girls in education, but also for other marginalised children, such as working children and disabled children.
Our networking and information-sharing activities so far have included workshops, school visits, community meetings, letter-writing to key agencies and individuals, and dissemination of documents on inclusive education (eg, EENET's newsletter). We try to involve children as well as adults in our activities.
GCEN's current focus is within Nigeria, but we have already developed some networking links in neighbouring countries, and hope one day to do more networking in the wider West Africa region.
Join GCEN in networking and information sharing
Networking and information sharing is not just about one organisation presenting its message and giving out documents – we need other organisations and individuals to join in and become active networkers with us!
GCEN is looking for people in Nigeria (and neighbouring countries) who want to get involved in sharing experiences and ideas about inclusion and exclusion in education. For example:
Are you a teacher who has experiences to share or challenges that you'd like to ask others for advice on?
Are you a policy maker who wants to access more information about inclusion issues to inform your policies and decisions?
Do you work for an NGO that has education programmes which are striving to be more inclusive?
Are you a parent who wants to lobby for your child's right to an equal education or who has a story to tell about your child's inclusion/exclusion from education?
Are you a pupil/student who wants to share your views on being excluded from education or on what it's like to be educated within an inclusive school?
Are you a donor who is looking to support a committed organisation which is raising awareness about educational rights, exclusion and discrimination and which is aiming to help Southern education practitioners to build their knowledge and information sharing capacities, without the usual dependence on Northern information systems?
If you want to share ideas, tell your story or simply gain access to more information about inclusive education, or if you want to support our work, please contact GCEN.
Contact details for GCEN
Nene Azubuko
Girl Child Empowerment Nigeria (GCEN)
PO Box 4433
Garki
Abuja
Nigeria
Tel/fax: +234 (0)9 670 3230
Email: